Whatever challenges your business faces, we want to help you overcome them.
Forward KC, in partnership with The Porter House KC, is offering a customized mentorship program for brick-and-mortar small businesses, businesses with less than $200K in annual sales and/or aspiring and new small businesses in-and-around the Troost & Prospect neighborhoods in Kansas City. Our group of diverse, passionate and skilled mentors provides one-on-one assistance to  help launch, stabilize and grow local businesses and strengthen the Troost & Prospect neighborhood commercial corridors. They contribute as sparring partners, support the founders with their expertise and share their valuable contacts.
The mentorship program is designed to:
Be adaptive to small businesses' most urgent needs
Remove the pressure of focusing on high growth
Focus on hands-on learning
Utilize conversation (vent) to reduce stress and anxiety
Inspire & Increase motivation to keep moving forward
How to participate
Businesses typically find out about our program through existing community organizations, such as the Porter House KC retail accelerator, KC Library quarterly workshops, Prospect Business Association or by attending other local small business events, which are hosted throughout the neighborhood. Businesses may also connect with us through our education and  networking events or by contacting us at ​gmunoz@forwardcities.org.
What we do
Once eligibility is established, we complete a comprehensive interview which includes a thorough ​SWOT analysis​. From here, we develop an immediately actionable milestone plan, which serves as the foundation for our 60-day BETA mentorship program. Then, through one-on-one, customized coaching, we help:
Determine priorities, define strategies and set actionable goals
Develop and refine growth plans
Identify and navigate processes, including real estate purchase/leasing, permitting and licensing, grants and loans, M/WBE Certifications, website development, marketing plan strategy, identify and apply for grant/funding opportunities, etc.
Connect you to a broad network of tools and resources, including technical assistance, subject matter experts, sources of capital and professional services.
Following the engagement period, we provide ongoing assistance on an as-needed basis.
Where we work
ForwardKC is currently working in one Kansas City, MO neighborhood in partnership with community-based organizations.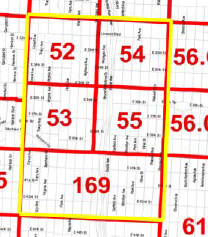 Who we work with
Businesses in and around the Troost & Prospect Avenues who:
Have or are preparing to open a brick-and-mortar business
Are incorporated or willing to work with our team to become incorporated.
Are tax compliant or willing to work with our team to become tax compliant
Are committed to undertaking all steps necessary to launch, stabilize or grow
Under $200K in annual sales
Less than 20 employees
Special thanks to our partner