Actualizing our mission to create opportunities for shared prosperity through inclusive and equitable entrepreneurial ecosystem development is made possible by our uniquely talented, skilled, passionate, and resilient team of equity champions and ecosystem builders.
Fay Horwitt
President & CEO

Fay Horwitt
President & CEO
Fay serves as the President & CEO of Forward Cities, where she oversees organizational strategy and serves as the executive lead of the ESHIP Communities initiative. In addition, Fay is a dedicated advocate for the emerging profession of ecosystem building, and as a founding member of Ecosystems Unite. Beyond her formal roles, she is a sought after presenter, trainer, and thought leader on the topic of equitable entrepreneurial ecosystem building. Never one to be content with status quo, Fay has also recently begun addressing a new need in local communities: ecosystem healing–helping pivot ecosystems and institutions in this time of the dual COVID-19 and systemic racial injustice pandemics.
Miriam Mueller
VP of Finance & Operations

Miriam Mueller
VP of Finance & Operations
As an entrepreneurial-minded executive, Miriam Mueller brings over 25 years of accounting, operational, and enterprise-management experience to the role of Vice President, Finance and Operations at Forward Cities. Having successfully run an accounting practice for over a decade, Miriam is adept at building growth-phase companies and leading change-oriented teams to achieve operational excellence through the implementation of sound financial practices. Miriam is passionate about helping entrepreneurs find self-sufficiency—particularly those within underserved communities—and volunteers to counsel others on how achieve financial security. Miriam earned a masters degree from Columbia University and a bachelors degree from The University of Texas.
Stacey Williams
Senior Director of Impact & Assessment

Stacey Williams
Senior Director of Impact & Assessment
Dr. Williams brings nearly 15 years of public health research experience and training to the Department of Impact and Assessment. With an eye towards the social determinants of health, she uses public health concepts to produce evidence on systemic inequities. Through the use of existing data and primary data collection tools, she works with the team to generate actionable information for informing local efforts to increase equity in opportunities. She completed her graduate training at the Johns Hopkins Bloomberg School of Public Health and the University of North Carolina Gillings School of Public Health. In her free time, Stacey enjoys tending to her flower garden, nature photography, and ancestry research.
Michelle Benham
Senior Director of Development & Communications

Michelle Benham
Senior Director of Development & Communications
Michelle's background in marketing, media, science, and organizational development led her to create award-winning content and campaigns for nonprofits, federal and local government agencies, and the private sector. Prior to Forward Cities, Michelle led the marketing and communications team at the Full Frame Documentary Film Festival, an internationally renowned program of the Center for Documentary Studies at Duke University. Previously, she led efforts at NASA's Goddard Space Flight Center, Discovery Learning Alliance, and Discovery Communications. Michelle is an alumna of the esteemed Emerging Wildlife Conservation Leaders program, and was a founding board member of the Conservation Leadership in the Caribbean fellowship—a capacity-building, networking, and leadership development program for emerging leaders in climate science and wildlife conservation in the wider Caribbean region. Michelle holds an M.F.A. in Film & Media from the School of Communication at American University and a B.S. in Ecology from the University of Georgia. She and her family are proud Durham residents with deep affection for the Eno River.
Hassan Bazzi
Director of Entrepreneur Engagement
Hassan Bazzi
Director of Entrepreneur Engagement
Hassan Bazzi serves as the Director of Entrepreneur Engagement at Forward Cities, In this role, he oversees the entrepreneurial ecosystem capacity-building engagements in the national network of cities. Hassan is an ecosystem builder and entrepreneur. Prior to joining Forward Cities, Hassan served in Detroit's non-profit sector in collaboration with community, philanthropy, government and the private sector on ecosystem building projects and cross-sector economic development initiatives including commercial corridor development, talent pipeline development, and small business development initiatives aimed at catalyzing neighborhood-based businesses and under-resourced entrepreneurs. Hassan serves as a Kauffman Foundation ESHIP Champion, is an alum of Leadership Detroit, an Aspen Ideas Scholar, and serves on a number of boards including Eastern Market Corp. and Venture for America–Detroit.
Tia Bond
Senior Manager of Operations

Tia Bond
Senior Manager of Operations
Tia Bond serves as Senior Manager of Operations supporting the members of the Forward Cities' Senior Team through the management, development, and continuous improvement of day-to-day operational processes. Prior to joining Forward Cities, Tia co-founded TDA Integrations, Inc., a healthcare staffing and strategic planning firm in support of the Department of Veterans Affairs and military installations. She continues to fill the roles as co-owner and CEO of her small business. Tia also served our great nation as a military officer and federal Logistics Manager. She earned a M.A. in International Studies and Security Studies from East Carolina University and B.S. in Biology from University of South Carolina. She is continually seeking avenues to pursue personal/spiritual growth and professional development. During her free time, Tia enjoys reading, baking, and spending quality time with her family and friends. Residing in the panhandle of Florida allows her to relish the beautiful emerald waters of the Gulf of Mexico with her husband and son. She has been a wedding coordinator with Savior Faire Weddings since 2014 and loves creating beautiful, memorable wedding days for her clients. Tia is also passionate about mentoring and coaching Veterans during their vulnerable season of transitioning out of uniform.
Deryle Daniels
Senior Manager of Narrative Change
Deryle Daniels
Senior Manager of Narrative Change
Deryle Daniels is the Senior Manager of Narrative Change with Forward Cities. He has over 10 years of experience in the fields of marketing, communications, and fundraising with universities, community organizations, small businesses, startups, and major corporations.
Born in Durham, Deryle graduated from the esteemed Chapel Hill High School and moved on to the University of North Carolina at Greensboro. While there, he was active on campus, serving on the new student orientation staff, as president of Alpha Phi Alpha Fraternity, Incorporated, and in numerous other leadership capacities.
Soon after graduation from UNCG, he moved to Charlotte and, eventually, back to Durham. He volunteers regularly at his elementary, middle, and high schools, as well as serves on two alumni boards at UNCG.
In 2015, Deryle married his college sweetheart, Desirée Daniels and, in 2021, they welcomed their son. They currently reside in Durham, NC and enjoy exercising, traveling, cooking, and the arts. In addition to Forward Cities, he uses Daniels Development & Branding, LLC to help small nonprofits and small businesses reach their target markets without breaking the bank.
Nutishia Lee
Manager of Development & Communications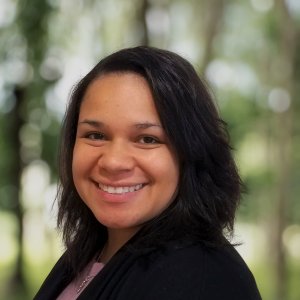 Nutishia Lee
Manager of Development & Communications
_
Nutishia is a Manager of Development & Communications at Forward Cities. Nutishia earned her B.A. in Visual Arts and Evolutionary Anthropology from Duke University and has remained passionate about both science and design. Prior to coming to Forward Cities, she served as a laboratory research analyst where she utilized scientific illustration to communicate complex concepts, details, and subjects in an engaging and easily comprehensible way. She is an experienced graphic designer and full-stack developer whose illustrations have been published in numerous scientific journals, including Developmental Cell and Cell Reports. In her free time, Nutishia enjoys gardening and introducing her young children to the wonders of the world around them.
Anna MacDonald
Director of Development

Anna MacDonald
Director of Development
Anna recognizes the creativity, value, and rich networks that entrepreneurs sustain in community, because her spouse and parents are all Triangle-based small business owners. A Durham native, she brings to Forward Cities more than 10 years of experience resourcing local, regional and national non-profit organizations. Anna's approach to development is informed by an MSW and BA in Journalism and Mass Communication from UNC-Chapel Hill, along with an MDiv from Duke.
Nastacia Pereira
Research Manager
Nastacia Pereira
Research Manager
Nastacia is a Research Manager at Forward Cities. They apply expertise at the intersection of health equity, storytelling, and systems change to translate big questions into deep insights that enhance our understanding of people's experiences and drive actionable solutions. They earned their Bachelors in Industrial/Organizational Psychology from Agnes Scott College and their MPH from the Gillings School of Global Public Health at UNC Chapel Hill. Beyond their research pursuits, Nastacia is a budding social entrepreneur seeking to advance an equitable business model that addresses root causes of disadvantage for youth of color. In their free time, Nastacia enjoys making candles, spending time outdoors, and photography.
Alice Quach
Research Assistant
Alice Quach
Research Assistant
Alice Quach is a Research Assistant at Forward Cities. She earned her M.S. in Sociology from Virginia Commonwealth University and her B.A. in Sociology and Biology from the University of Virginia. She published an article in the Fall 2021 issue of Dissent Magazine on educational inequality during COVID-19, focusing on how the pandemic has exacerbated existing inequalities among students of color. For this piece, she interviewed 30 undergraduate and graduate students to tell some of their stories. Her research interests include race and ethnic relations, institutions and inequalities, and social justice and human rights. In her free time, she enjoys watching movies and TV, listening to podcasts, and spending time with friends.
Megan Shuford
Manager of Program Operations
Megan Shuford
Manager of Program Operations
Megan North Shuford Megan comes to Forward Cities with over 15 years of non-profit experience including program design, storytelling, grassroots fundraising and communications. She is dedicated to uplifting the voices of our diverse ecosystem builders, community leaders and entrepreneurs, while continuing to support the creation of healthy entrepreneurial ecosystems in our ESHIP communities. Before becoming our Manager of Program Operations, she directly supported conscious and social entrepreneurs as a transformational coach. She is also a passionate and dedicated community builder, healer, storyteller, conscious co-creator and founder of Dreams Followed. Her life values are centered around collective liberation, compassion, love, honoring intuition, community and racial, economic, and social justice. Feel free to contact Megan at mshuford@forwardcities.org with any questions or just to say Hello!
Magalie Yacinthe
Director of Ecosystem Engagement

Magalie Yacinthe
Director of Ecosystem Engagement
Magalie, an alumnus of Florida Agricultural & Mechanical University, was born in Nassau Bahamas, raised in Miami FL, and is one of five daughters to Haitian parents. As the Director of Ecosystem Engagement, she will lead the execution and delivery of Forward Cities' equitable entrepreneurial ecosystem building solutions and learning engagements. Leveraging a depth and breadth of experience in entrepreneurial support and resource development, as well as best practices for diversity, equity, and inclusion. She serves as Interim Executive Director of HUSTLE Winston-Salem, a nonprofit organization dedicated to inclusive entrepreneurship. Magalie is also the CEO of YES Strategies & Solutions, a cost-effective consulting firm helping nonprofits and corporations accomplish successful programming and project management to carry out their missions. She serves as Board Chair of Forsyth Futures and Board Communications Chair for Winston-Salem Delta Fine Arts, Inc. Magalie is a 2018 graduate of Leadership Winston-Salem, 2018 City of Winston-Salem Martin Luther King Jr. Young Dreamers Award recipient, 2020 Winston-Salem Chronicle Business of the Month, 2020 Winston Under 40 Awardee, 2020 HOPE Outreach MLK Women's Day Awardee, the 2020 recipient of the Winston-Salem Forsyth County Arts Council R. Phillip Hanes, Jr. Young Leader Award, 2021 Triad Business 40 Under 40 Honoree, and a 2021 Triad Business Journal Power Player.