HOW DO YOU MEASURE THE HEALTH & EQUITY OF AN ENTREPRENEURIAL ECOSYSTEM?
In essence, an entrepreneurial ecosystem is the dynamic mix of visible and invisible elements that combine to create the environment in which entrepreneurs launch and grow their businesses. There are many established conventions around measuring the visible and tangible parts of an ecosystem, such as available real estate or number of higher educational institutions. But how do you measure the invisible elements such as connectivity, trust, and equity? Equally importantly, how do you measure the quality and impact of both visible and invisible elements? If you ask anyone in this nascent field, they will tell you that these have been the big, unanswered questions. Until now.
E3 | EQUITY FOR EVERY ENTREPRENEUR
Forward Cities has pioneered the development of the nation's first comprehensive self-assessment tool and corresponding facilitated methodology to measure the health and equity of an entrepreneurial ecosystem. Our goal is to help community leaders everywhere effectively make sense of their entrepreneurial environment to emerge and define its assets, gaps, and opportunities. Armed with this information (and proper guidance), ecosystem stakeholders can then collaborate to link and leverage high-quality ecosystem elements that add up to Equity for Every Entrepreneur (E3). The ultimate vision is to spur equitable prosperity through promoting entrepreneurship-led economic vitality.
THE E3 SCORE
There are four essential building blocks for any entrepreneurial ecosystem:
The people that bring it to life
The programs and places that educate and connect makers, dreamers, and doers
The networks that create support structures that allow businesses to thrive
The narratives that propel the work forward and the energy outward into the broader community.
Each of these blocks consists of categories of elements that are individually scored and then combined to create an ecosystem's E3 Score.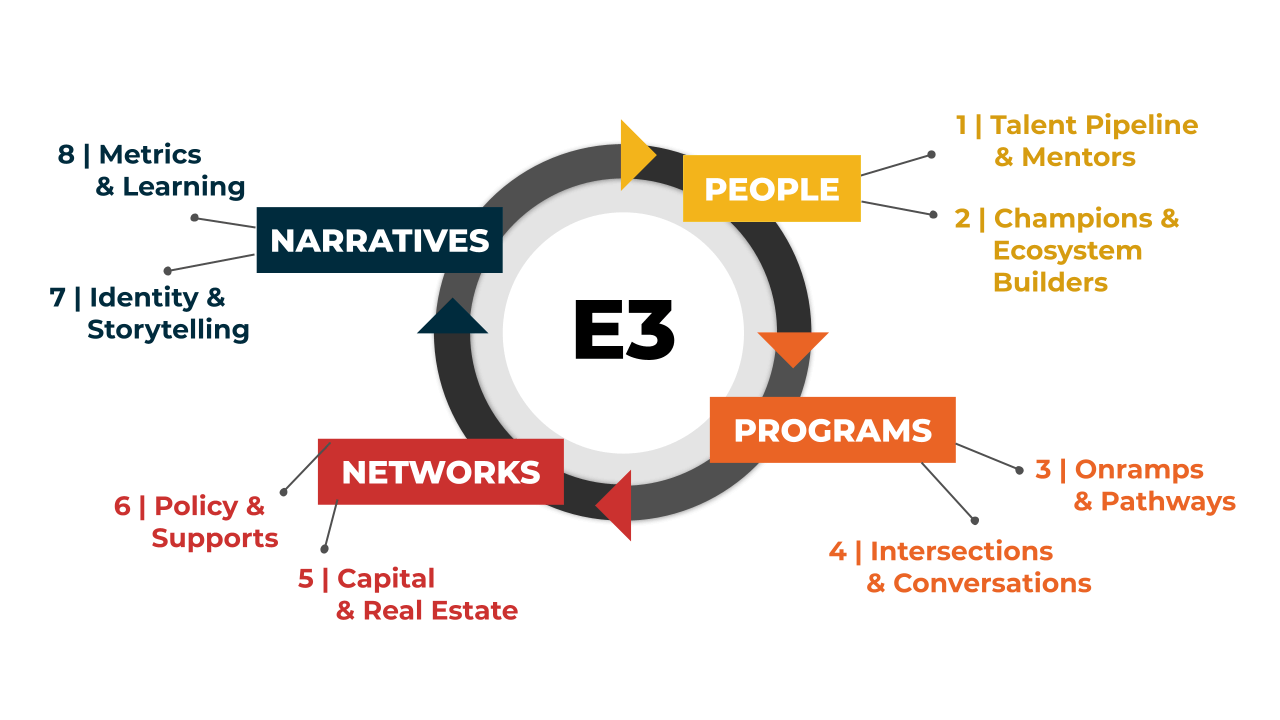 ---
At Forward Cities, we value collaboration above all and are always interested in finding new partners, exploring new ideas, and forging new ground. Please take 1-2 minutes to complete this form, which allows you to share how you might like to engage with us as we collectively pursue equity for every entrepreneur. A Forward Cities staff member will follow-up with you in the next 48 hours.