This story is adapted from the E3 Durham e-newsletter, a monthly newsletter that features updates on the efforts of our community's incredible entrepreneurs, upcoming events and workshops, and news from around the Durham Community. Stay up-to-date by subscribing to our monthly E3 Durham e-newsletter.
Happy Black Business Month!
From innovative startups to longstanding businesses, the entrepreneurial spirit of Durham's Black community has helped forge a path toward economic empowerment and growth. This Black History Month, join us in celebrating the remarkable Black-owned businesses that shape our local community and enrich our city.
Artistic Passion and Entrepreneurial Vision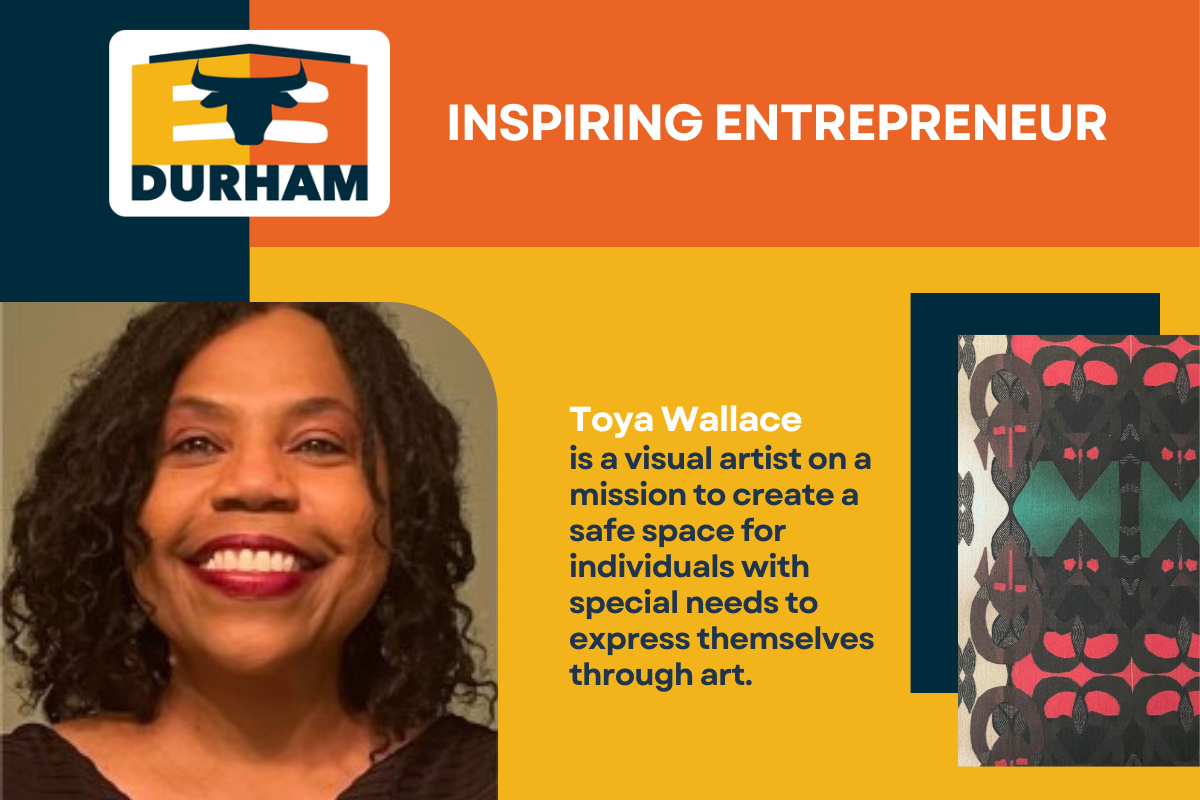 The following is an excerpt from our recent blog, Artistic Passion and Entrepreneurial Vision, featuring E3 Durham Entrepreneur, Toya Wallace.
In the realm of creativity and entrepreneurship, few individuals embody the fusion of passion, talent, and determination as powerfully as Toya Wallace, a visual artist hailing from Durham, North Carolina. Her artistic journey, driven by a natural gift and an unyielding love for art, has led her on a path toward establishing her own art studio and gallery. However, Toya's aspirations extend beyond personal success. She seeks to create a safe space for individuals with special needs to express their creativity and showcase their art.
Toya's artistic journey commenced at a young age, with her innate talent evident to all who encountered her work. From being designated as the class artist during school projects to receiving accolades from her teachers, Toya's artistic prowess was unmistakable. It was during her formative years that her passion for art flourished, nurtured by her family's recognition of her exceptional gift. Toya recalls, "Everyone knew that I had what they called a gift of drawing."
Join us at PU@P in September!
Pull-Up at Provident events feature opportunities to network with experts in the business community.
Join us for a chance to network with entrepreneurial experts and other Durham entrepreneurs at Pull-Up at Provident on Wednesday, September 6th, 2022 at 5pm. Enjoy the vibrant atmosphere and take advantage of being in a space full of fellow entrepreneurs eager to share their insights and forge new connections.
5:00 pm - 8:00 pm Networking
5:40 pm Greeting & Introductions
6:00 pm and 7:00 pm Workshops
 

6 pm | Local Lender Offerings, Moderated by Scott Wolfard from the SBA
 

7 pm | Be Unique...Without the Stress, Presented by Echo
Book a 30-minute, one-on-one financial, entrepreneurship counseling session. Sessions are free and available before each event at Provident1898, from 1 - 4 pm.
Sign up for a session on Calendly.
August E3 Durham Entrepreneur of the Month
Laughing Monitos empowers bilingual children to overcome communication challenges and embrace their full potential.
Judy Batista, founder of Laughing Monitos, is a licensed bilingual speech-language pathologist who brings a deep understanding of the importance of cultural diversity and the unique needs of bilingual families. Through years of experience and ongoing professional development, she has honed skills in evidence-based practices and innovative therapy approaches.
"At Laughing Monitos, I am wholeheartedly committed to providing exceptional care and guidance to your child. I believe that every child deserves the opportunity to express themselves confidently and connect with others. My goal is to empower your child to overcome communication challenges and embrace their full potential."
Crack the Code to Your Perfect Customer: Discover Who They Are
"Crack the Code to Your Perfect Customer: Discover Who They Are" is a highly informative training designed for both new and established business owners who seek better clarity in identifying their ideal paying customers. This workshop delves into the customer avatar exercise, guiding participants through the process of creating 2-3 clearly defined client personas. By connecting the dots between these avatars and their marketing plan, participants will leave equipped with invaluable insights to effectively target their perfect customers and create winning marketing and promotion strategies.
Presented by Jacinta Walker of Lyfe Wurks. In-person Friday, August 11th from 11:00 AM to 12:30 PM at the Durham Tech Small Business Center, The Chesterfield Building Suite 203.
Bull City Sigmas: Bigger and Better Business Expo
Phi Beta Sigma Fraternity Inc., Durham Alumni hosts the Small Business & Community Expo for the general public to come out to support small businesses Sunday, August 13th from 1 - 5pm at Durham Central Park (501 Foster Street Durham, NC 27701). The Durham Alumni chapter of Phi Beta Sigma promotes black spend and small businesses throughout the year. This is an excellent opportunity for small business vendors to capitalize on this Black spend event.
Give it to the People and the Durham Technical Community College Small Business Center are happy to bring the 2nd Annual BLK BIZ Summit back to the Bull City on Friday, August 25, 2023, from 10 am - 4 pm at the Chesterfield Building located at 701 W. Main Street, Durham, NC 27701.
Join us as we explore the concept of Financial Freedoms and how it can be used to create empowerment for Black Founders as we build a new Black Wall Street. Explore options for creating a side hustle, starting a business, and find out what quitting your day job looks like as a full-time business owner.
Spots are available for vendors and exhibitors. If you're interested in participating, please visit www.blkbizsummit.com.
PopBox: Big Ideas in a Small Space | If you have a creative, interactive or unique retail business idea, PopBox is the place for you! Businesses will have the opportunity to have their own pop up space in RTP for a five month run if selected. Food business are not eligible, but it's a great opportunity for other retail focused businesses. Applications open Tuesday, August 1, 2023. Boxyard RTP is looking for three women and/or BIPOC owned businesses to each fulfill a five-month residency in PopBox beginning March 1, 2024.
Garden Spot | We are looking for food entrepreneurs to participate in 4-6 week residencies, serving food three nights per week. Vendor applications for Garden Spot will be reviewed on a rolling basis, with vendor interviews held in March, August, and November. Interviews will give us a chance to meet you and give you a chance to see the space. If you've got questions, please contact us at garden@lanternrestaurant.com.
NC IDEA Fall 2023 Grants Cycle | NC IDEA has kicked off its Fall 2023 Grants Cycle that includes two grant opportunities supporting ambitious, growth-oriented companies:
NC IDEA MICRO awards small, project-based grants in the amount of $10K to young companies looking to validate and advance their idea.
NC IDEA SEED offers early stage companies the critical funding they need to scale faster. The $50K grants are awarded to innovative startups with a proven concept – even if they are not yet profitable.
NC IDEA MICRO and NC IDEA SEED grant applications close on August 28, 2023 at 5:00pm EST.
Copyright © 2023 Forward Cities, All rights reserved.