"

What was clear two years ago, and again during this week's visit, is that the real assets in each of these communities are the people

."

Hassan Bazzi, Director of Community Innovation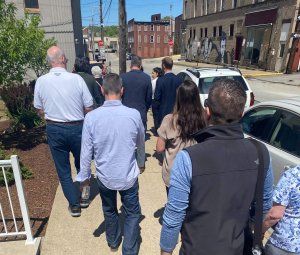 It was great to be back in Westmoreland County earlier this week. I first visited Westmoreland County and met the inimitable Kim Louis back in Feb 2020, during my second month at Forward Cities. Kim was our on-the-ground person, Forward Cities' Project Manager for Westmoreland County, leading the work in New Kensington (our first project in Westmoreland County). At the time Kim provided a walking tour of New Kensington's commercial corridors, introducing me to some of the key up-and-coming businesses that were part of the revival of her community.
We took a similar tour this time around, and it was amazing to see how much progress has been made in New Kensington over the last two years. The focus of the visit to Westmoreland County this time was to see Jeannette, a community we began working in starting in Jan 2021 following a similar model to the work in New Kensington. Kim has been leading the work on the ground in Jeannette since that time. We spent a day in Jeannette with community stakeholders including entrepreneurs, faith leaders, economic developers, and our Jeannette funding partners at the Hillman Family Foundation and the Community Foundation of Westmoreland County.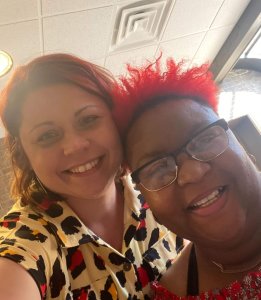 What was clear two years ago, and again during this week's visit, is that the real assets in each of these communities are the people. Our work has helped bring them together and unite them around a shared vision. Once they can visualize it, it's a matter of aligning the various pieces to achieve it. And that's not an easy or straightforward task. It is only possible through investing in and building relationships - otherwise known as ecosystem building. And that requires an authentic and passionate ecosystem builder, one who has earned the trust of the community, just like Kim.
The energy in Jeannette is very palpable. You can feel the positive things that are coming to this community. Several of the people we spoke with relayed the same sentiment. We visited newly acquired buildings and talked to the entrepreneurs who are bringing them back to life. These entrepreneurs were either members of the local Forward Cities community advisory council or participants in the small business bootcamp that was delivered in partnership with Bridgeway Capital through our initiative in Jeannette. The bootcamp concluded this past Monday (you can see Kim facilitating a wrap-up debrief session in the photo). We toured dilapidated buildings in the process of getting brought back to life – peeling back outdated wallpaper or removing 1970's faux wood paneling to reveal hidden architectural treasures beneath.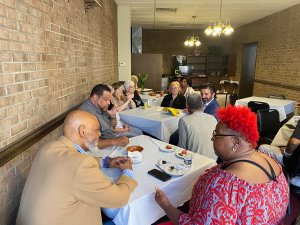 Like these architectural treasures beneath the walls, what's in Jeannette and New Kensington has always been there. Forward Cities' work and the facilitation of the process by Kim has helped to reawaken and reignite the spirit that makes these communities the gems they are. Kim invested in building and maintaining authentic relationships, and earned the trust of the community. I want to recognize and thank Kim for being a model ecosystem builder, and for her dedication to all the little pieces over the last 16 months in Jeannette. I look forward to hearing about and seeing what these communities look like in the coming months and years.
Photos courtesy of Kim Louis.