This story is adapted from the E3 Durham e-newsletter, a monthly newsletter that features updates on the efforts of our community's incredible entrepreneurs, upcoming events and workshops, and news from around the Durham Community. Stay up-to-date by subscribing to our monthly E3 Durham e-newsletter.
Cultivating Joy through Travel
The following is an excerpt from our recent blog, Cultivating Joy through Travel, featuring February's E3 Durham Entrepreneur of the Month, Kestra Jeri.
Kestra's love for travel began in the second grade when her mother took her to visit family in Germany. "My mom always told me 'go out there, experience the world, experience cultures to see what you love, and learn more about yourself.' So I took all her words to heart."
During a life-changing philanthropy trip to Germany, Kestra was able to support refugees who fled war-torn countries, arriving in Germany to find peace and build new lives. "That trip really opened my eyes," she says. The experience taught her that, most of the time we don't fully get to experience cultures and people if we rely on what we see in the movies, or if when we travel we stick to Americanized resorts and excursions. "you have to experience people and you have to experience their cultures to really know about them and to make your own opinions."
April 5th Pull-Up at Provident event.

Don't miss a chance to network with entrepreneurial experts and other Durham entrepreneurs, become part of the E3 Durham community, and create long-lasting connections. Join us at the next PU@P on Wednesday, May 3rd, 2022 at 5pm!
5:00 pm - 8:00 pm Networking
6:00 pm Greeting & Introductions
6:30 pm Workshop
| | |
| --- | --- |
| Book a 30-minute, one-on-one financial, entrepreneurship counseling session. Sessions are free and available before each event at Provident1898, from 1 - 4 pm. | |
April E3 Durham
Entrepreneur of the Month
Gina-Marie D'Meza, owner of Little Homestead Farm and her family. Photo courtesy of littlehomesteadfarm.com.

After learning that people are exposed to hundreds of chemicals every day in simple things like soaps, shampoos and lotions, Gina-Marie and her husband Alan set out to remove as many of the harsh chemicals from their household as possible.
According to Gina-Marie, "This led me to begin creating my own bath and body products for our family and once I started there was no turning back. I love knowing that the products I make contain a small handful of natural, readable, safe ingredients." At Little Homestead Farm, all of the soaps are handmade with GMO free, sustainably harvested, food grade oils and they strive to use earth friendly packaging.
Want to be featured as an E3 Durham Entrepreneur of the Month?
Read The Stories Of Our Community's Incredible Entrepreneurs!
We are excited to announce that our new Inspiring Entrepreneurs page is live! Read the stories of E3 Durham's entrepreneurs and champions and see all of our past Entrepreneurs of the Month! Click below to view the page and see what's new.
Growing your Entrepreneurial Instincts and Behaviors
Join Carl Nordgren at the Durham Tech Small Business Center on Friday, April 14th from 11:00 am - 1:00 pm for this free in-person webinar. We'll help you develop your personal Creative Mindset—your perspectives of the world and its opportunities—and your Entrepreneurial Toolbox—the strategies and behaviors that will help you become the best creative and entrepreneurial version of yourself. There is an emphasis on envisioning, starting, and growing your business.
National Small Business Week 2-Day Virtual Summit
Join us May 2 – May 3, 2023, for the National Small Business Week Virtual Summit hosted by the U.S. Small Business Administration and SCORE. Attend this free, virtual summit to learn new business strategies, meet other business owners and chat with industry experts! This 2-day, action-packed event will include educational sessions, online business resources, and expert speakers.
Small Business Opportunity Loan Fund | The City of Durham and Durham County established the Durham Small Business Opportunity Loan Fund program to support small businesses located throughout Durham. The fund is held and administered by the Carolina Small Business Development Fund (CSBDF). Visit the CSBDF website for details and to apply!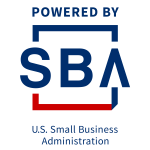 Funded in part through a Grant with the U.S. Small Business Administration. All opinions, conclusions, and/or recommendations expressed herein are those of the author(s) and do not necessarily reflect the views of the SBA.