Long Beach, California-based Community Project, The Long Beach Crosswalk, Launches New, Free Online Resource Platform to Support Local Entrepreneurs and Entrepreneur Support Organizations
A one-stop online resource, the Long Beach Crosswalk has launched to support aspiring entrepreneurs and those currently operating their businesses to access the resources and support needed throughout their business journey. Consisting of several entrepreneurs and representatives from local entrepreneurial support organizations (ESOs), the ESHIP Long Beach Council has worked for two-plus years to support the creation of this innovative new online tool in partnership with the City of Long Beach.
Created out of a demonstrated need early on in the pandemic, the collective council developed this free online tool designed to support entrepreneurs during every stage of business ownership. Ensuring entrepreneurs and ESOs will use the tool as a virtual "pocket guide," it includes a design element which integrates a necessary layer of technical assistance and customized support for the platform.
The Crosswalk contains hundreds of resources and detailed information — available for all, for free. With emphasis in the base categories of the Crosswalk (Funding, Planning, Legal, Local, Gig, Equity), users of the site will have full access to:
Direct connection with individual and organizational technical assistance support
Detailed, up-to-date information on programs, grants, and other funding opportunities
Active calendar updates on local, regional, and national education-based/workshop opportunities
Networking events including pitch opportunities
Organizational points of contact relating to small business opportunities
Connections with local Long Beach entrepreneurs including information sessions relating to the Crosswalk
Kena Fuller, ESHIP Communities Local Organizer and Owner/Executive Director of Fuller Management Corporation states, "The Crosswalk is a culmination of deep love for community and genuine intent for assisting the growth and sustainability of our shared entrepreneur ecosystem. Early on, we knew this pandemic was going to take its toll on small business, though no one could have assessed the magnitude. We have learned so much about the strength of Long Beach and the innate drive that entrepreneurs have; we had to do our part in making it easier for entrepreneurs to sift through information. People were instantly inundated and overwhelmed and simply needed a helping hand. That is what the Crosswalk is all about. After many months and hundreds of hours of planning, we are beyond excited to present the platform to the community, eagerly awaiting the opportunity to lend the hand our entrepreneurs and ESO's absolutely deserve."
The ESHIP Long Beach Council first gathered in February 2020, prior to the start of the pandemic. With the goal of supporting the entrepreneur ecosystem, initial objectives led council members to focus on a Business Navigator program. Fast forward a few weeks, the realization of need set in and the council shifted their focus to providing accessible, relevant resources while maintaining the focus on supportive, personalized features of the Crosswalk.
During the planning process, members of the council met in large and small working groups, sharing accounts of working with the entrepreneur community. Through a shared learning model, council members determined several common categories of need: Funding, Planning, Legal, Local, Gig, Equity. And, thus, the Crosswalk was born.
With the goal of making access to resources a simplified process, the Crosswalk relays details about more than 500 listed resources and is designed by EcoMap. Consisting of local, regional, and national resources all are available to the public with the option for users to create customized pages of curated information, aligning with the Crosswalk's objective of meeting entrepreneurs where they are, regardless of size and type of business or related industry.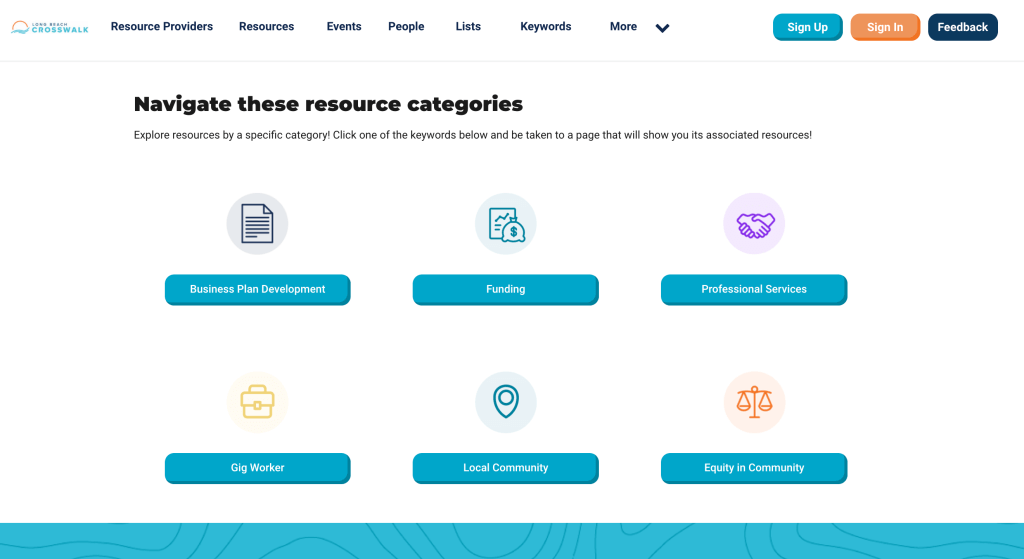 As professed by the Long Beach Council, the Long Beach Crosswalk was designed for entrepreneurs by entrepreneurs, born from a passion for community and equal access.
ESHIP Long Beach Council members include:
Kena Fuller, Jen Burnett, Vanessa Saunders, Fuller Management Corporation
Eric Romero, Jayro Sandoval, and John Keisler City of Long Beach Economic Development Department
Rebecca Kauma, City of Long Beach Economic and Digital Inclusion
Fred Sor, United Cambodian Community
Austin Metoyer, Downtown Long Beach Alliance
Dina Feldman, Feel Good Salsa, LLC
Karina Martinez, avana creative
Leigh Lester, Ubuntu Institute of Learning
Josephine Cruz-Molina and Jessica Quintana, Centro CHA
Dr. Wade Martin, Institute for Innovation Entrepreneurship at California State University, Long Beach
ESHIP Long Beach is part of a larger ​national initiative​ of the Ewing Marion Kauffman Foundation, led by a collaborative council of individuals who represent different stakeholders from across the community. ​Forward Cities​ is managing the implementation of this effort as a grantee of the ​Foundation​. This national program is a community-driven approach for building entrepreneurial ecosystems that foster inclusion, relationships, collaboration, and social capital across networks of entrepreneurs and those who support them. The program supports the creation and evaluation of a repeatable, bottom-up approach to building and strengthening entrepreneurial ecosystems.
Media Contact:
Kena Fuller, Fuller Management Corporation
KenaFuller@FullerPros.com
Media Assets HERE