ESHIP Long Beach engages grassroots and entrepreneur leaders in efforts to grow connectivity, collective impact, and community alignment in support of the City of Long Beach Economic Development Blueprint, as well as its goals for economic inclusion and entrepreneurship.
The ESHIP Long Beach initiative is being supported by the City of Long Beach.
Subscribe to our ESHIP Communities newsletter and stay up to date on this vital ecosystem building that is happening across the country.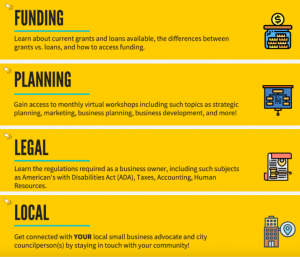 A project that has been nearly two years in the works, our ESHIP Long Beach Community Council is beyond excited to announce that we are set to re-launch the Long Beach Small Business Crosswalk in March 2022! Proudly referred to as "The Crosswalk," this custom online tool is designed to support both entrepreneurs and entrepreneur support organizations (ESOs) in a way that provides a means of access to an array of hyper-local, regional, and national resources.
Consisting of the primary categories of Funding, Planning, Legal, and Local Resources, each area of focus is carefully curated and customized to meet the needs of users from all walks of life. Considering all that our entrepreneur community has endured during this unprecedented time — we are elated to present a new platform that meets our entrepreneurs where they are, giving support when and where needed — made for entrepreneurs, by entrepreneurs. 
Reach out to Kena
Get to know the power behind the work! Meet our group of council members who make our local efforts happen.
Kena Fuller
ESHIP Long Beach Project Manager
With a passion for business development, Kena Fuller set out to build a consulting firm revered for its hands-on expertise, expansive knowledge, and award-winning services. Aligned with her education in Behavioral Economics, Global Business Management, Marketing, and Small Business Enterprise, it is her 20-plus years of experience in business management, development, sales, marketing, and higher education management that provides each client with a level of professional prowess that is unsurpassed.
As Executive Director of Fuller Management, Kena is adamant about client engagement and overall customer satisfaction. Personally managing every client account, it is her careful attention to detail and integrated strategy that has helped consistently support and grow each client's revenue year over year. "It is an absolute pleasure to work with and represent the clients we serve. From our team to yours, thank you for choosing Fuller Management Corporation!" - Kena Fuller
VIEW PRESENTATION OF RESEARCH HIGHLIGHTS
The assessment process, involving both qualitative and quantitative data collection, is designed to increase ecosystem stakeholder understanding of the entrepreneurial assets, barriers, and opportunities that exist in a given ecosystem. Having a data-informed perspective ensures that actions intended to fortify the ecosystem, whether through programmatic efforts or other means, are guided by sound justification. 
Essential in this process is a need to center those people most impacted by the barriers identified, ensuring that the ultimate goal is to use the data to inform practices to alleviate those barriers and create a greater chance of success for the identified target population. The purpose of the Research Summary is to inform the local council on the latest ecosystem data available as they support and form current and future pathfinder projects to solve for those identified barriers.
This Kauffman Foundation initiative is led by a collaborative council of individuals who represent different stakeholders from across the community. Forward Cities is managing the implementation of this effort as a grantee of the Kauffman Foundation.
For more information contact: