Come December, Forward Cities will wrap a three year engagement in Kansas City, the first of the four ESHIP Communities to come on board as part of a broad initiative of the Kauffman Foundation.  In an effort to provide a wrap on the engagement, ESHIP Communities and the Porter House KC hosted a celebration at the Porter House KC co-working community space on October 7th, 2021. The couple of dozen who attended in person and the handful of others who attended virtually got to hear from many of the people who made the engagement a success.
Forward Cities' Senior Director of Learning Networks Brett Brenton attended the event.
As part of my visit to Kansas City, I was able to witness some of the great work that has been built over the course of the last three years during the ESHIP Kansas City initiative.
My first stop was at Los Amigos in Independence, MO, where Local Director Gabe Munoz and I enjoyed lunch at one of the many 'Cash Mob' locations that has been receiving support in an ongoing effort to bring more visibility to restaurants owned by BIPOC entrepreneurs across the greater Kansas City metro area.
Later that day, we visited the Toolbox, a business resource center located on Kansas City, Kansas' Central Avenue that was launched from the vital work of the ESHIP Kansas City council. Gabe has taken the reins of running the Toolbox on a day-to-day basis as he transitions out of his three year stint with Forward Cities and ESHIP Communities. He was visited by multiple entrepreneurs the two days I was there, all looking for support in bringing their business dream to a greater reality.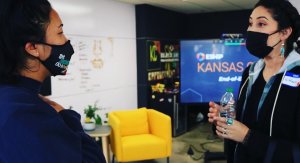 At the event, we heard from council members and program participants about the importance of the work of ecosystem building and finding new and creative ways to better support small business owners. It was obvious that the greater Kansas City ecosystem has grown a lot over the past few years, and yet there is still a long road ahead to make sure that every entrepreneur gets the support they need to reach their potential. Hearing about the efforts Wyandotte County is undertaking from Shaya Lockett and how organizations like Mission Adelante are finding new ways to lean in from Alex Ruybalid gave evidence to the former and hope to the latter. We look forward to continuing to watch this ecosystem grow, and to learning from the work they have done so that it might benefit other communities with similar aims.