We believe communities that support entrepreneurs can improve economic prosperity for everyone.
We believe that the tighter the link between a community's entrepreneurs and its support system, the more economically vibrant that community will be – and its entrepreneurs will ultimately be more successful. This means building entrepreneur-centric, ecosystem-based approaches to equitable economic development across the country.
The ESHIP Communities program was a community-driven approach for building entrepreneurial ecosystems that foster inclusion, relationships, collaboration, and social capital across networks of entrepreneurs and those who support them. The program supported the creation and evaluation of a repeatable, bottom-up approach to building and strengthening entrepreneurial ecosystems.
To validate the effectiveness of the model, we tested key aspects of the framework in Kansas City, Central New Mexico, Baltimore, and Long Beach. Learnings from the initial programs will help refine the approach in subsequent cities and were shared with communities nationwide via presentations at the ESHIP Summit and a suite of digital learning guides and tools. 
To validate the effectiveness of the model, we tested key aspects of the framework in the following communities: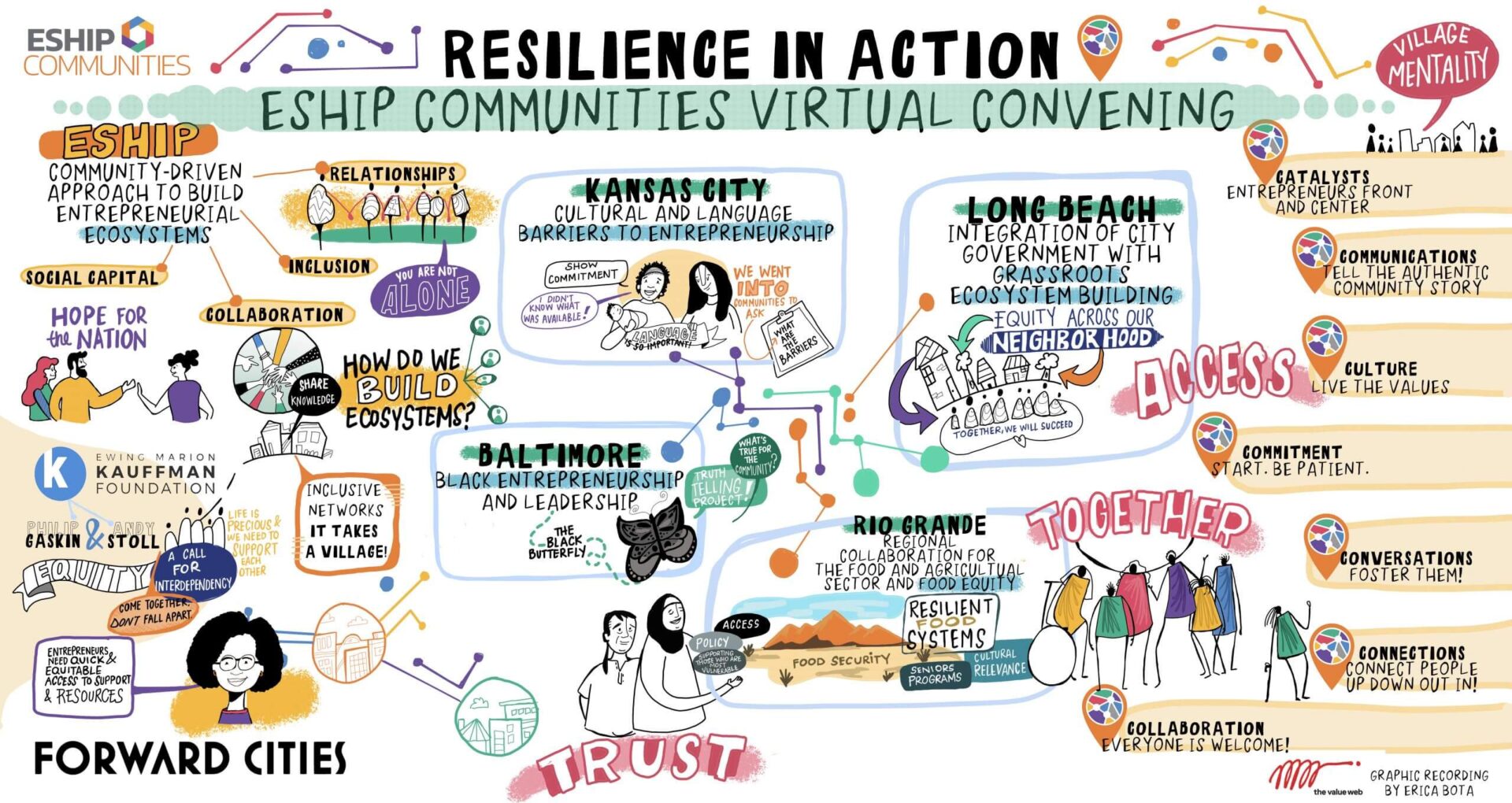 This image was created by virtual scribe Erica Bota of The Value Web over the course of the 2020 ESHIP Cross City Convening. It captures the voices of the many individuals who are now blending their unique cultures and hues across the ESHIP Communities initiative. Please credit the artist if shared.
Ultimately, policymakers, entrepreneur support organizations, and community leaders will be able to adopt this model's policies, practices, and programs to build their local entrepreneurial ecosystems.
Read more about ESHIP Communities
Paulo Gregory | ESHIP Baltimore
"I feel incredibly blessed to be a steward for the passionate bridging, love, and support the ESHIP Baltimore Stewardship Council holds for Baltimore, and in particular for those Black business owners who are at the heart of this City, holding it down not only during this insane time, but through all the insane times before Rona showed up. We, as a Council, are diverse in so many ways, and at the same time, we are all leaning in with Truth, Love, and Conviction to bring change that lifts those at the root, into the light. This work is not a quick fix. It is based upon building trust with each other, and with a community that has too long been given promises, only to be disappointed - again, and again. We See You… And will not bring promises we can't keep. This takes time. And progress moves at the speed of trust!"
Gabe Muñoz  | ESHIP Kansas City
"I am grateful for all of the supporters of small businesses in KC and beyond - the customers, entrepreneurial support organizations and community - who go above and beyond to support our local businesses who are the heart of our community. They have created a sense of community by cheering on the successes of small businesses and making more conscientious efforts to shop from them, both locally and online."
Erin Ortigoza  | ESHIP Rio Grande
"I am grateful for the legacy of collaborative work that has formed a foundation for resiliency as the world changes around us.  I am also thankful for the courage to listen and share with community members and authentically voice needs, strength, wisdom and passion. I have deep gratitude for the friendships I am developing through this year of reaching inward and outward."
Kena Fuller | ESHIP Long Beach
"The City of Long Beach is such a unique place. An entrepreneurial ecosystem full of small and micro enterprise, it truly is a great community to be a part of. As a member of the ESHIP Long Beach Council for a little over a year, it has been an absolute joy to work alongside our ESOs, fellow entrepreneurs, and friends of the work we have been pursuing within the council."
This Kauffman Foundation initiative was led by a collaborative council of individuals who represent different stakeholders from across the community. Forward Cities managed the implementation of this effort as a grantee of the Kauffman Foundation.