ESHIP KANSAS CITY ENGAGED ENTREPRENEURS AND COMMUNITY LEADERS TO GROW TRUST, CONNECTIVITY, AND EQUITY FOR ENTREPRENEURS IN THE NEIGHBORHOODS MOST DISCONNECTED FROM THE TRADITIONAL ENTREPRENEURIAL ECOSYSTEM.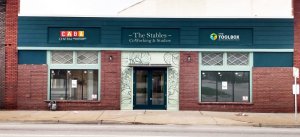 Launched in July 2018 and concluded in June 2021, our work was focused in the Troost/Prospect Avenues area in Kansas City, Missouri and the Central/Minnesota Avenues area in Kansas City, Kansas with two legacy programs that are each thriving.
The toolbox
Our Small Business Resource Center
The Toolbox is the go-to resource for everything small business in Wyandotte County, Kansas. All of our services are offered at no-cost to local residents and businesses. We provide support with planning, registering, funding, operating, and growing your business.  We take the intimidating checklist of starting and operating a business and distill it down into the essentials through private one-on-one small business coaching. We want to make navigating business-related processes in Wyandotte personable, simple and accessible, so you can get back to doing what you do best — creating, innovating, and succeeding in your business.

FORWARD KC MENTORSHIP PROGRAM
Forward KC, in partnership with The Porter House KC, created a customized mentorship program for brick-and-mortar small businesses, businesses with less than $200K in annual sales and/or aspiring and new small businesses in-and-around the Troost & Prospect neighborhoods in Kansas City. This group of diverse, passionate and skilled mentors provided one-on-one assistance to help launch, stabilize and grow local businesses and strengthen the Troost & Prospect neighborhood commercial corridors. They contributed as mentoring partners, supported the founders with their expertise and shared their valuable contacts.
Meet Our Alumni Council Members!
Get to know the power behind the work! Meet our group of council members who made our local efforts happen.
Gabe Muñoz
ESHIP Kansas City Local Director 2019-2021
Gabe has been actively involved in the Kansas City entrepreneurial ecosystem for over 15 years. Gabe works to create a unified community vision to best serve entrepreneurs, while creating a welcoming and inclusive culture that places the needs of entrepreneurs front and center. Gabe is currently the Executive Director of the KC Toolbox for Small Businesses. 
Prior to coming to Forward Cities, he served as the Director of Sales and Small Business Advising for the Hispanic Chamber of Commerce of Greater Kansas City. In his role, he was responsible for cultivating and maintaining relationships with startups, government/non-profit agencies, community leaders, and corporate America. During his 12 years at the HCC, he assisted over 1,000 micro-enterprises in getting licensed, certified as M/WBEs, and connected in the community.
Gabe is the second oldest of nine children and an avid fan of the Kansas City Chiefs, Kansas City Royals, and KU basketball. In his free time, you can find him playing soccer and spending time with his wife Julia and their four children, Devin, Diego, Daisy, and Desiree.
The #KCEcosystemBuilder campaign highlights the innovators and changemakers in Greater Kansas City.
"I hope to create a template for how we alleviate many of the problems we face as a nation. Many of these problems are not universal. They are a result of decisions we have made at local, regional, and national levels.
If I can de-risk the solutions and show that these problems can in fact be solved in a way that makes all community stakeholders happy, that would be what success looks like for me."
– Eze Redwood, KC Ecosystem Builder
Community Attitudes and Perceptions of Entrepreneurship in Kansas city
To assess experiences and perceptions around entrepreneurship in Kansas City, KC and MO, the Kenan Institute for Private Enterprise at UNC Chapel Hill administered an online survey in spring 2019. This survey analysis focused on respondents from the identified Prospect/Troost (KCMO) and Central/Mission (KCK) areas.
ESHIP Communities was proud to partner with Startland News for the duration of the initiative.


This Kauffman Foundation initiative was led by a collaborative council of individuals who represent different stakeholders from across the community. Forward Cities managed the implementation of this effort as a grantee of the Kauffman Foundation.