"Everything you place after Black is too small a term to completely describe the act. Black nation, Black builder, Black entrepreneur…" - Sean Carter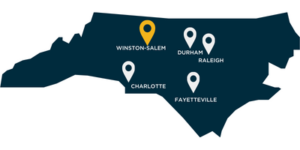 As Forward Cities embarks on an unprecedented project to understand and shift narratives around Black business ownership, Durham's historic Black Wall Street serves as a model. Winston-Salem was selected as one of five pilot communities for Forward Cities' Black Wall Street initiative.
Toni Barnes
Winston-Salem Ecosystem Builder in Residence
Toni Barnes proudly claims two hometowns in Northern Illinois. She deeply values family, community, education, sustainability, and personal autonomy. She strives for success in these areas and loves helping others in these areas as well. Toni graduated from St. Philip's College with an associate's degree in Business Administration and reigned as Miss St. Philp's College 2013-14. She received bachelor's degrees in Business Management and Fashion Merchandising from Texas State University.
Barnes soon realized that what she went to college for no longer aligned with her life vision and so she started her entrepreneurial journey in 2018 with a visual production company, Tony and Toni Productions, named after her father and herself. Throughout this journey, she soon became aware of the uniform way in which resources and information was being given to her unique entrepreneurial peers. Thus, she created Building The Boss, a business strategy and development company, focused on meeting entrepreneurs where they are and providing value that is customized for them specifically.
Toni has been involved in various capacities with HUSTLE Winston-Salem since 2019 and currently serves as its Associate Director. She is delighted to be a part of an organization that is ''a force of positive turbulence" and "is working towards bridging the gap of entrepreneurial inequality, and provid[ing] resources to women...and those in marginalized business districts".
Toni has plenty of hobbies and passion projects to keep her time diversified. She is an advocate for individualism within communities and hopes her work always centers on inclusiveness.
The Winston-Salem Pilots
PAST-PRESENT-FUTURE OF BLACK WALL STREET IN WINSTON-SALEM
An intriguing, in-person experience in which the community could learn the resources and roadblocks surrounding Black businesses in the city. This dynamic event transported the audience through the past, merged them with the present, and allowed hope for the future of Black businesses in Winston-Salem. We hope that this Past-Present-Future of Winston-Salem's Black Wall Street event served as an effort to support Winston-Salem's entrepreneurs from the inside-out!
Black Wall Street Experience (BWSX)
A comprehensive community engagement process that utilized assets from throughout the community to produce an annual, city-wide campaign that produces measurable wealth, synergy and breaks down silos, which will include, but are not limited to, hosting a day of small group breakout sessions of Black business history in Winston-Salem, life and business coaching, and financial education.
Discover BWSF-Winston-Salem
The Black Wall Street Forward Council was asked to project forward and imagine what that community would look like in the year 2050, with each pillar activated to its fullest potential. The following is the strategic vision emerged by the council along with historical context, aligned assets, and council-identified collaborative opportunities that can be leveraged as part of a larger effort to bring that vision to fruition.
Explore the Interactive Presentation
Explore the journey of the Black Wall Street Forward Council using our interactive Prezi.
For updates and information, connect with us on LinkedIn and Instagram at @BlackWallStFwd.
To stay updated on The Black Wall Street Forward initiative, subscribe to the newsletter!
Pillars & Council Members
In order to catalyze this narrative change in each community and honoring past and existing efforts of Black Wall Street legacy stewardship, we will pull forward the following pillars of success from Durham's historical Black Wall Street.
Collaborative Black leadership and innovation
Rod Brown
Founder, OnceLogix
Dana Suggs
Owner, Body & Soul
Culturally-rooted geographic business hub
Anika Massey
Executive Director, ACCESS
Kenneth Pettigrew
Executive Director, Winston Lake Family YMCA & REACH Center
Ally investment and partnership
Hasani Mitchell
Community and Economic Development Program Administrator, Forysth County
Tiffany Tate
Incoming Board Chair, Black Philanthropy Initiative | Winston-Salem Foundation
Talent pipeline seeded by education
Carol Davis
Executive Director, S.G. Atkins
Kellie Easton
President and CEO, Action4Equity
Engagement with the broader Black community
Cheryl Harry
Executive Director and Founder, Triad Cultural Arts
Calvin Patterson
President, Black Chamber of Commerce
Self-perpetuating funding engine
Perry Cabean
Managing Member, Grand Street Capital Management, L.L.C.
Phyllis Caldwell-George
President and CEO, Financial Pathways of the Piedmont
Partners
We're grateful for being able to partner with the following organizations to catalyze Black-centric Entrepreneurial Ecosystems: