"Durham is one of largest cities in North Carolina…the city of cities to look for prosperity of the Negroes and the greatest amount of friendly feeling between the two races of the South…Durham was a city of Negro enterprise (Independent, 1911)." - Booker T. Washington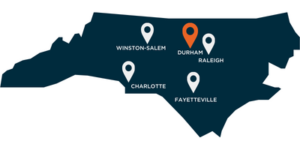 As Forward Cities embarks on an unprecedented project to understand and shift narratives around Black business ownership, Durham's historic Black Wall Street serves as a model. Durham was selected as one of five pilot communities for Forward Cities' Black Wall Street initiative.
Justin Minott
Durham Ecosystem Builder in Residence
Justin Minott is an international author, community builder, speaker, entrepreneur, and business coach who is passionate about helping world-changers launch and scale their ventures. He currently serves as the Director of Durham's Black-centric coworking community, Provident1898.
The Durham Pilots
Black Wall Street Mindset
"Black Wall Street Mindset: Black Wealth in the Modern Era" provides an interactive experience with incredible speakers and entrepreneurs in an environment conducive to connection and collaboration.
We bring together:
Black entrepreneurs looking to launch and scale their venture
People committed to advancing economic liberation in the Black community
Entrepreneur supporters who invest in the Black entrepreneurial ecosystem
Lively and engaging panel discussions featuring powerful local entrepreneurs and intentional networking time are designed to help you advance your mission through meaningful collaborations.
Diaspora House
Diaspora House is a Black-focused community hub located in the heart of Durham, NC that leverages craft coffee and cocktails to create collisions between impactors.
A space for dreamers and doers to collide over great coffee and cocktails. This is a connective networking event that showcases the power of what we can accomplish together as a community.
The Black Wall Street Forward Council was asked to project forward and imagine what that community would look like in the year 2050, with each pillar activated to its fullest potential. The following is the strategic vision emerged by the council along with historical context, aligned assets, and council-identified collaborative opportunities that can be leveraged as part of a larger effort to bring that vision to fruition.
Explore the Interactive Presentation
Explore the journey of the Black Wall Street Forward Council using our interactive Prezi.
For updates and information, connect with us on LinkedIn and Instagram at @BlackWallStFwd.
To stay updated on The Black Wall Street Forward initiative, subscribe to the newsletter!
Pillars & Council Members
In order to catalyze this narrative change in each community and honoring past and existing efforts of Black Wall Street legacy stewardship, we will pull forward the following pillars of success from Durham's historical Black Wall Street.
Collaborative Black leadership and innovation
Kenyetta Hall
CEO, Katalyst HQ
Matthias Payton
Owner, Jasper & Gold
Culturally-rooted geographic business hub
Dauv Evans
Founder, The Gallus Collective
Ally investment and partnership
Keith Daniel
Managing Director, Resilient Ventures
Jon Fjeld
Co-Director, Innovation and Entrepreneurship at Duke University
Talent pipeline seeded by education
Makayla Booker
Executive Director, Wall St. Juniors
Tamette Farrington
Counselor, North Carolina Central University
Engagement with the broader Black community
Latoya Alston
Owner, Kingdom Building Mentality
Chisa Pennix-Brown, MBA
Owner, Give it to the People
Self-perpetuating funding engine
Darlene Deberry
Business Solutions Officer, Carolina Small Business
JaLisha Richmond
Director of Lending, Thread Capital
Partners
We're grateful for being able to partner with the following organizations to catalyze Black-centric Entrepreneurial Ecosystems: