"Durham offers none of the color and creative life we find among Negroes in New York City. It is not a place where men write and dream; but a place where black men calculate and work" 
- Noted Black sociologist E. Franklin Frazier, 1925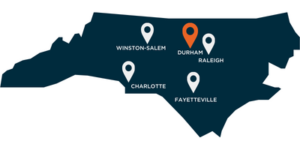 As Forward Cities embarks on an unprecedented project to understand and shift narratives around Black business ownership, Durham's historic Black Wall Street serves as a model. Durham has been selected as one of five pilot communities for Forward Cities' Black Wall Street initiative.
Justin Minott
Durham Ecosystem Builder in Residence
Justin Minott is an international author, community builder, speaker, entrepreneur, and business coach who is passionate about helping world-changers launch and scale their ventures. He currently serves as the Director of Durham's Black-centric coworking community, Provident1898.
The Durham Pilots
Black Wall Street Mindset
Black Employee to Black Entrepreneur provides an interactive experience with incredible speakers and entrepreneurs in an environment conducive to collaboration.
Who should attend?
Black Employees working a day job who are thinking about becoming an entrepreneur.

Black Employees who are currently working a day job and have an existing business 

Black Employees who aren't sure, but want to test the waters and see if entrepreneurship is a fit. 
Attendees can expect a lively and engaging day of conversation about strategies for financial growth, developing mental wealth, as well as marketing yourself and your brand to generate more opportunities and revenue streams.
Diaspora House
is a Black-focused community hub located in the heart of Durham, NC that leverages craft coffee and cocktails to create collisions between impactors.
Connect with us
For updates and information, connect with us on Twitter, Facebook, and Instagram at @BlackWallStFwd.
To stay updated on The Black Wall Street Forward initiative and the various opportunities to get involved with the initiative, subscribe to the newsletter!
Pillars & Council Members
In order to catalyze this narrative change in each community and honoring past and existing efforts of Black Wall Street legacy stewardship, we will pull forward the following pillars of success from Durham's historical Black Wall Street.
Collaborative Black leadership and innovation
Kenyetta Hall
CEO, Katalyst HQ
Matthias Payton
Owner, Jasper & Gold
Culturally-rooted geographic business hub
Dauv Evans
Founder, The Gallus Collective
Ally investment and partnership
Keith Daniel
Managing Director, Resilient Ventures
Jon Fjeld
Co-Director, Innovation and Entrepreneurship at Duke University
Talent pipeline seeded by education
Makayla Booker
Executive Director, Wall St. Juniors
Tamette Farrington
Counselor, North Carolina Central University
Engagement with the broader Black community
Latoya Alston
Owner, Kingdom Building Mentality
Chisa Pennix-Brown, MBA
Owner, Give it to the People
Self-perpetuating funding engine
Darlene Deberry
Business Solutions Officer, Carolina Small Business
JaLisha Richmond
Director of Lending, Thread Capital
Partners
We're grateful for being able to partner with the following organizations to catalyze Black-centric Entrepreneurial Ecosystems: