Black people can unify, create generational wealth, and build communities all over the nation.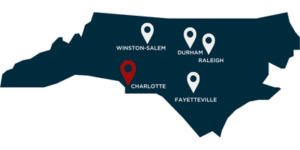 As Forward Cities embarks on an unprecedented project to understand and shift narratives around Black business ownership, Durham's historic Black Wall Street serves as a model. Charlotte was selected as one of five pilot communities for Forward Cities' Black Wall Street initiative.
Harrison Williams
Charlotte Ecosystem Builder in Residence
Harrison Williams is a native of Riverdale, Georgia. He attended Georgetown University where he obtained his Bachelor of Arts in Economics with double minors in French and African American Studies and a certificate in Entrepreneurship. Harrison brings 7+ years of experience from banking, sales and business development, non-profit management and entrepreneurial ecosystem development. As of recently, he has transitioned into the healthcare start-up space. Currently, he is the Director of Strategic Sales at Mign, a healthcare start-up in Charlotte, NC that focuses on revolutionizing the orthopedics space for health care providers and patients. Harrison focuses on developing the sales and market penetration strategy for the organization. He has also held numerous board and fellowship positions such as acting the Treasurer of the West Mecklenburg Advisory Board, sitting as the Vice Chair of the Charlotte Inclusion Advisory Board Committee (CBIAC) and being named 2022 Charlotte Equity Impact Fellow.
Harrison served as the Ecosystem Builder in Residence for the Charlotte community. He is very interested in finding the intersection between policy, community and capital when focusing on creating equitable economic development strategies and is excited to serve black entrepreneurs and businesses in the city of Charlotte.
The Charlotte Pilot
Ubuntu, Legacy, and Growth: Reimagining Charlotte's Black Wall Street
The Black Wall Street Forward Charlotte Council pilot focused on creating an impact report exploring the landscape of the Charlotte entrepreneurial ecosystem for Black entrepreneurs and how this affects entrepreneurs' mental health. The report focused on how already existing disconnected resources, entrepreneurs' lack of knowledge of resources and funding institutions' lack of understanding how to identify and funnel entrepreneurs into the correct channels for resources in the Charlotte ecosystem puts a strain on the mental health of Black entrepreneurs. From the findings, a longer term strategy was to build a "care team" hub of entrepreneurial connections, resource support and access to aid Black businesses to grow capital assets; customized support to fit their entrepreneurial needs; which in theory will help with their mental health as they grow their businesses in the Charlotte market.
The Black Wall Street Forward Council was asked to project forward and imagine what that community would look like in the year 2050, with each pillar activated to its fullest potential. The following is the strategic vision emerged by the council along with historical context, aligned assets, and council-identified collaborative opportunities that can be leveraged as part of a larger effort to bring that vision to fruition.
Explore the Interactive Presentation
Explore the journey of the Black Wall Street Forward Council using our interactive Prezi.
For updates and information, connect with us on LinkedIn and Instagram at @BlackWallStFwd.
To stay updated on The Black Wall Street Forward initiative, subscribe to the newsletter!
Pillars & Council Members
In order to catalyze this narrative change in each community and honoring past and existing efforts of Black Wall Street legacy stewardship, we pulled forward the following pillars of success from Durham's historical Black Wall Street.
Collaborative Black leadership and innovation
Adrian Marable
CEO, GroopWork
Nikki Pounds
CEO, HR Unequivocally
Culturally-rooted geographic business hub
Monique Douglas
Executive Director, The Brooklyn Collective
Sherry Waters
Owner, The Pauline Tea-Bar Apothecary
Ally investment and partnership
Linda Hughes
Program Director, Women's Business Center of Charlotte
Shaunne Thomas
Assistant Program Manager, Charlotte Business Inclusion Office, City of Charlotte
Talent pipeline seeded by education
Kellen Nixon
Principal, Nixon & Co Consulting Group
Ron Thompson
Owner/Principal Consultant, Thompson Consulting and Analytics, LLC
Engagement with the broader Black community
Sharika Comfort
Director Of Community Outreach, West Side CLT
Cathay Dawkins
Executive Director, Black Business Owners Corp
Self-perpetuating funding engine
Manuel Campbell
CEO, Aspire Community Capital
Tonia Woodbury
Head of DEI Americas, BNY Mellon
CHAMPIONS
Champions of the work in Charlotte include:
Vernetta Mitchell
Director, MGT Consulting group
Partners
We're grateful for being able to partner with the following organizations to catalyze Black-centric Entrepreneurial Ecosystems: