When someone uses the term "Black Wall Street," they could be thinking of any number of Black business districts across the country in communities that were segregated by law and sustainable by design.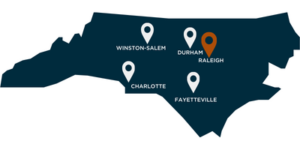 As Forward Cities embarks on an unprecedented project to understand and shift narratives around Black business ownership, Durham's historic Black Wall Street serves as a model. Raleigh has been selected as one of five pilot communities for Forward Cities' Black Wall Street initiative.
Why Raleigh?
Raleigh is the capital city of North Carolina and is the second-most populous city in North Carolina. Following the Civil War, Raleigh became a center of opportunity and advancement for Black Americans. That significance is evident today in numerous landmarks, districts, and educational and cultural institutions.Foremost are two of the nation's leading historically Black universities: Shaw University and Saint Augustine's College. In 2024, Money Magazine ranked Raleigh #4 on its list of 'Best Places to live in U.S', citing, among other things, its cultural festivals such as the African-American Cultural Festival. The City of Raleigh government demonstrates a strong commitment to advancement of Black businesses through a variety of programs and initiatives - including their commitment to and support of the Black Wall Street Forward Initiative.

Mel Wright
Raleigh Ecosystem Builder in Residence
Mel Wright is an Army veteran, a mother of a 19 year old son, the owner of 2 businesses and has also been appointed as 1 of 15 group leaders for the area community study of the Dix Edge project for the city of Raleigh. She takes pride in The Wright Village (TWV) coworking/incubator space and her tax business. A big believer in Cotivation, Mel supports collaborations and motivation between entrepreneurs.
Mel is no stranger to the entrepreneurial lifestyle. She has over 7 years of entrepreneurship. After 2.5 years of Mel's attempt at business number 2, Beau and Beauty, a resale clothing store, she had to make a choice: lose her home or close the store. Spending tons of money to build a business she had no idea how to run, knew nothing about a target market, analytics or even the area, Mel decided to go back to school, where she attended North Carolina Central and graduated May 2020 with a Bachelor of Business Administration with a concentration in marketing. She knew that once she graduated she would be able to help other entrepreneurs along their journeys and help them avoid the same mistakes she made.
Always having the passion for helping others, she wanted to become this small business liaison. In December of 2019 she started to look for an office for her tax business and came upon the current location of TWV and knew that a coworking/incubator space would be that perfect fit. She would be able to help others and also build a village of like-minded entrepreneurs looking to collaborate, build and grow their businesses with each other.
The Wright Village is a place for entrepreneurs to come and build their business while learning and helping others along the way. Providing the resources and the accountability that one would need to become successful is what you will get by being a member of the TWV. It takes a village, "The Wright Village."
The Raleigh Pilots
Small Business Success Academy
The focus is on business growth through client acquisition and access to capital. The Academy will be conducted in 4 ½ day sessions with the intention of initiating the development of a network of successful Black small business owners. It's expected that this kind of network can be the backbone for creating a reimagined Black Wall Street.
Black Wall Street Forward Directory
A comprehensive directory of Black small business owners that will be used to develop and deliver support and resources. The level of each small business will be categorized in the book by: future entrepreneur (not ready to start, startup) - 1 yr or less, early stage - 2-5 yrs, growing - 6 yrs and above.
Connect with us
For updates and information, connect with us on Twitter, Facebook, and Instagram at @BlackWallStFwd.
To stay updated on The Black Wall Street Forward initiative and the various opportunities to get involved with the initiative, subscribe to the newsletter!
Collaborative Black leadership and innovation
Katrece Boyd
General Business Counselor, Small Business and Technology Development Center (SBTDC)
Bill Davis
Retired, Team Nimbus of North Carolina
Culturally-rooted geographic business hub
Tosh Comer
Coaching & Connections Manager, Thread Capital
Johnny Hackett Jr.
CEO, Black Dollar Corp
Ally investment and partnership
Heather McDougall
Sr Manager Strategy & Innovation, City of Raleigh
Clark Rinehart
Founder, SIVIK Communities
Talent pipeline seeded by education
Katie Gailes
CEO, Katie Gailes & Co.
Hanif Omar
Professor of Entrepreneurship, Shaw University
Engagement with the broader Black community
Mia Lamotte
CEO/Owner, LaMotte International
Ryan Ray
Founder, Triangle Entrepreneurial Leadership
Self-perpetuating funding engine
Corey Barbour
VP Commercial Banker, North State Bank
Reggie Jones
Business Solutions Director, Carolina Small Business Development Center
Partners
We're grateful for being able to partner with the following organizations to catalyze Black-centric Entrepreneurial Ecosystems: