"She came down here because she knew it was a thriving community."
Sarah B. Frazier, daughter of Jacqueline DeShazor, founder of DeShazor Beauty System, Inc.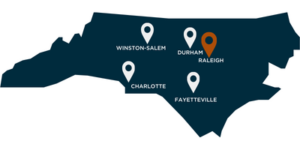 As Forward Cities embarks on an unprecedented project to understand and shift narratives around Black business ownership, Durham's historic Black Wall Street serves as a model. Raleigh was selected as one of five pilot communities for Forward Cities' Black Wall Street initiative.

Mel Wright
Raleigh Ecosystem Builder in Residence
Mel Wright is an Army veteran, a mother of a 19 year old son, the owner of 2 businesses and has also been appointed as 1 of 15 group leaders for the area community study of the Dix Edge project for the city of Raleigh. She takes pride in The Wright Village (TWV) coworking/incubator space and her tax business. A big believer in Cotivation, Mel supports collaborations and motivation between entrepreneurs.
Mel is no stranger to the entrepreneurial lifestyle. She has over 7 years of entrepreneurship. After 2.5 years of Mel's attempt at business number 2, Beau and Beauty, a resale clothing store, she had to make a choice: lose her home or close the store. Spending tons of money to build a business she had no idea how to run, knew nothing about a target market, analytics or even the area, Mel decided to go back to school, where she attended North Carolina Central and graduated May 2020 with a Bachelor of Business Administration with a concentration in marketing. She knew that once she graduated she would be able to help other entrepreneurs along their journeys and help them avoid the same mistakes she made.
Always having the passion for helping others, she wanted to become this small business liaison. In December of 2019 she started to look for an office for her tax business and came upon the current location of TWV and knew that a coworking/incubator space would be that perfect fit. She would be able to help others and also build a village of like-minded entrepreneurs looking to collaborate, build and grow their businesses with each other.
The Wright Village is a place for entrepreneurs to come and build their business while learning and helping others along the way. Providing the resources and the accountability that one would need to become successful is what you will get by being a member of the TWV. It takes a village, "The Wright Village."
The Raleigh Pilots
Small Business Success Academy (SBSA)
The Small Business Success Academy focused on business growth through client acquisition and access to capital. The strategic intent was to initiate the development of a network of successful Black small business owners.
This was a 4 1/2 day in-person experience in which entrepreneurs prepared for the next level of success in their businesses by following the client acquisition model, building a strong support network that can be leveraged to build a thriving business, and becoming the backbone for the creation of the next reimagined Black Wall Street Raleigh.
At the event, we introduced Black Wall Street Forward Network: The Green Book For The New Economy.
Black Wall Street Forward Network: The Green Book For The New Economy
Black Wall Street Forward Network: The Green Book For The New Economy is a comprehensive directory of Black-owned Businesses and Entrepreneur Support Organizations (ESOs). The directory helps ESOs quickly identify Black businesses across targeted segments to rapidly deliver service offerings. It also acts as a one-stop shop where Black entrepreneurs can source relevant resources, find mentors and technical assistance, ask questions, and build community within and outside of their designated segment. The purpose of the directory is to map ecosystem resources, better connect Black entrepreneurs to sources of support, and reduce the access and distribution challenges Black entrepreneurs and ESOs experience when trying to receive and deliver aid.
The Black Wall Street Forward Council was asked to project forward and imagine what that community would look like in the year 2050, with each pillar activated to its fullest potential. The following is the strategic vision emerged by the council along with historical context, aligned assets, and council-identified collaborative opportunities that can be leveraged as part of a larger effort to bring that vision to fruition.
Explore the Interactive Presentation
Explore the journey of the Black Wall Street Forward Council using our interactive Prezi.
For updates and information, connect with us on LinkedIn and Instagram at @BlackWallStFwd.
To stay updated on The Black Wall Street Forward initiative, subscribe to the newsletter!
Pillars & Council Members
In order to catalyze this narrative change in each community and honoring past and existing efforts of Black Wall Street legacy stewardship, we will pull forward the following pillars of success from Durham's historical Black Wall Street.
Collaborative Black leadership and innovation
Katrece Boyd
General Business Counselor, Small Business and Technology Development Center (SBTDC)
Bill Davis
Retired, Team Nimbus of North Carolina
Culturally-rooted geographic business hub
Tosh Comer
Coaching & Connections Manager, Thread Capital
Johnny Hackett Jr.
CEO, Black Dollar Corp
Ally investment and partnership
Heather McDougall
Sr Manager Strategy & Innovation, City of Raleigh
Clark Rinehart
Founder, SIVIK Communities
Talent pipeline seeded by education
Katie Gailes
CEO, Katie Gailes & Co.
Hanif Omar
Professor of Entrepreneurship, Shaw University
Engagement with the broader Black community
Mia Lamotte
CEO/Owner, LaMotte International
Ryan Ray
Founder, Triangle Entrepreneurial Leadership
Self-perpetuating funding engine
Corey Barbour
VP Commercial Banker, North State Bank
Reggie Jones
Business Solutions Director, Carolina Small Business Development Center
Partners
We're grateful for being able to partner with the following organizations to catalyze Black-centric Entrepreneurial Ecosystems: