"We've got to strengthen Black institutions. I call upon you to take your money out of the banks downtown and deposit your money in the Tri-State Bank. We want a 'bank-in' movement in Memphis... We [must] begin the process of building a greater economic base."
Dr. Martin Luther King, Jr., April 3, 1968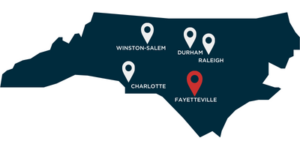 As Forward Cities embarks on an unprecedented project to understand and shift narratives around Black business ownership, Durham's historic Black Wall Street serves as a model. Fayetteville was selected as one of five pilot communities for Forward Cities' Black Wall Street initiative.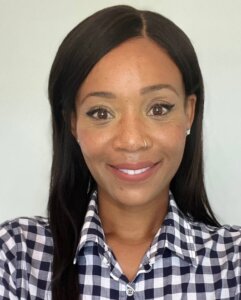 Lee Gray
Fayetteville Ecosystem Builder in Residence
Lee Gray is a community-oriented leader and ecosystem builder. Her
career experiences have spanned across the retail and fashion industry. Since graduating from North Carolina A&T State University, Lee has led teams in retail management, apparel design, and visual merchandising for national clothing brands including Nordstrom, Belk, and bevello.
Lee's interest in entrepreneurship and community development stems from her desire to transfer her wealth of skills in management and retail to entrepreneurs in real time. Lee currently serves as Associate Director of Outreach & Communications for Knox St. Studios, a studio serving entrepreneurs and change makers across North Carolina. Most recently, Lee is the Outreach coordinator for E3 Durham, an SBA backed initiative that connects small businesses in Durham to the tools and resources, to mentors, and to each other. Lee holds a Masters in Operations Management and a career certificate in Fashion Design and Merchandising.
The Fayetteville Pilots
Black Business Connect 2023
Black Business Connect was an innovative expo to bring the black business community together through informative workshops, panels, speakers, networking, food and music. Attendees joined us to help build on the legacy of the Black Wall Street ecosystem in Fayetteville, as we celebrated our history and collaborated on how we can support our successes in the future.
Black Artist Forum 2023
The Black Artist Forum provided exclusive access to local art and business experts. The three hour panel and networking event included an interactive discussion with experts, mentors, and organizations in a safe space for attendees to voice their needs during a Q+A session. Each attendee was also provided curated resources specific to the tools needed to be successful in the arts.
Discover BWSF-Fayetteville
The Black Wall Street Forward Council was asked to project forward and imagine what that community would look like in the year 2050, with each pillar activated to its fullest potential. The following is the strategic vision emerged by the council along with historical context, aligned assets, and council-identified collaborative opportunities that can be leveraged as part of a larger effort to bring that vision to fruition.
Explore the Interactive Presentation
Explore the journey of the Black Wall Street Forward Council using our interactive Prezi.
For updates and information, connect with us on LinkedIn and Instagram at @BlackWallStFwd.
To stay updated on The Black Wall Street Forward initiative, subscribe to the newsletter!
Pillars & Council Members
In order to catalyze this narrative change in each community and honoring past and existing efforts of Black Wall Street legacy stewardship, we will pull forward the following pillars of success from Durham's historical Black Wall Street.
Collaborative Black leadership and innovation
Kirk Bell
Realtor, EXIT Realty
Allonease Readdy
Owner, Dark Red Photography
Culturally-rooted geographic business hub
Tamara Bryant
Director, Hub at UNCFSU
Ally investment and partnership
Kia Anthony
Mayor, City of Spring Lake
Shakeyla Ingram
Council Woman, City of Fayetteville
Talent pipeline seeded by education
Dorrance Kennedy
Professor of Social Work, FSU
April Mata
Creative Director, Arts Council
Engagement with the broader Black community
Kurin Keys
Owner, 1-800 Tees
Quow Lumumba
Founder/Community Steward, Barber Kings
Self-perpetuating funding engine
Crystal McLean
Director of Lending, CEED
Robert Van Geons
Workforce and Economic Dir, City of Fayetteville
Partners
We're grateful for being able to partner with the following organizations to catalyze Black-centric Entrepreneurial Ecosystems: