Ohio Equitable Entrepreneurial Ecosystem
The E3 Ohio engagement brings together five of Ohio's mid-sized cities –  Akron, Canton, Dayton, Toledo, and Youngstown – to participate in a six-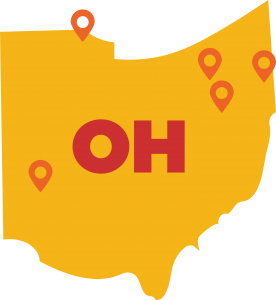 month process to evaluate and enrich each community's equitable entrepreneurial ecosystem. This "community of practice" empowers local stakeholders to prioritize creating equity for every entrepreneur in their community.
Representatives from each of the five cities will convene three times throughout the engagement to encourage cross-community collaboration.  Throughout, local cross-sector stakeholder committees (ranging from 10-12 members from each city) will meet to develop a comprehensive vision and plan for their community, guided by training and support from Forward Cities. Utilizing proven practices developed by Forward Cities, the committees will:
Explore the strength of their local entrepreneurial ecosystem

Increase cultural competence around issues affecting small business growth

Develop measurable solutions to fortify their local support practices.
This engagement was made possible with the support of Huntington Bank. The engagement will take place September of 2020 to April of 2021.
For more information about E3 Ohio or to inquire about our E3 Region work, be in touch.