This story is adapted from the Forward Cities monthly e-newsletter. Subscribe for the latest news and updates from cities across the country.
August 2023

Amplifying the Impact of Black Wall Street Forward
We are excited to announce that Forward Cities has received a grant from the Truist Foundation to expand the Black Wall Street Forward program! The Black Wall Street Forward initiative engaged five communities throughout the state of North Carolina - Durham, Charlotte, Fayetteville, Raleigh, and Winston-Salem - in a cohort-based learning journey to explore the past, present, and future of Black entrepreneurship in those communities. Black Wall Street Forward has already demonstrated a remarkable impact and with this exciting news, we're thrilled to continue this initiative, enabling ecosystem builders and council members across the pilot communities to sustain and expand our efforts even further!
"We are thrilled to have the opportunity to more deeply explore and expand on the Black Wall Street Forward initiative. In the process of piloting the program in North Carolina, we have seeded new narratives that have the potential to catalyze significant systems change for Black entrepreneurs in these communities. We are grateful that the continued support of the Truist Foundation will allow us to explore how to scale that impact within these communities and beyond."
- FAY HORWITT
FORWARD CITIES PRESIDENT & CEO
This month, we're diving into the journey of the inaugural Black Wall Street Forward cohort, looking back at the pilots, exploring the strategic visions of each of the five communities, and learning what's next.
Follow us on Instagram to learn about the cohort's journey and subscribe to the BWSF E-newsletter for a special recap of each community.
Are you interested in learning more about a particular Black Wall Street Forward community or finding ways to join the movement? Please take 1-2 minutes to complete this form to share how you might like to engage with us.
Fostering Connections in Durham
Our E3 Durham Spoke partners continue to work to help Durham entrepreneurs better understand the small business landscape, introducing them to an array of resources and opportunities available to help them thrive. The impact of the E3 Durham Community Navigator Program, and others like it on entrepreneurs and small business owners across the U.S. is profound. According to the White House's recently released FACT SHEET, "As of July 2023, Community Navigators have helped secure nearly $250 million in approved funding for small businesses, trained over 290,000 business owners, and conducted 145,000 hours of one-on-one counseling."
Industry News, Reports, Best Practices
Economic Recovery Corps Fellowship Program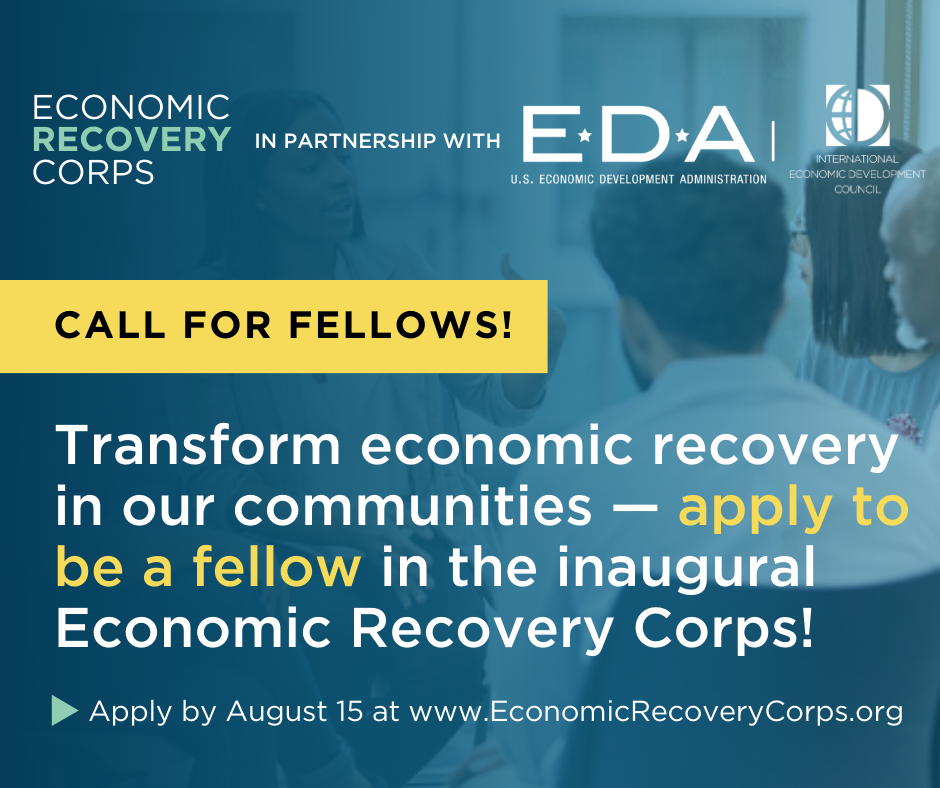 Help us spread the word on the Economic Recovery Corps fellowship opportunity to early- to mid-career professionals with a passion and desire to create transformative economic change in communities nationwide!
The ERC Fellowship program is a unique (paid) opportunity to join – and help build – a nationwide network of diverse practitioners and leaders with the passion, skills, and vision to advance new ways of doing economic development.
ERC Fellows will serve as catalysts, working in partnership with local leaders and communities to activate regional economic development strategies that drive innovation, sustainable growth, and build long-term resilience. Throughout the 30 month program, fellows will gain access to robust professional development resources and support such as mentorship, trainings, conferences, research, networking, and more.
To help us reach potential fellows, please share this opportunity with emerging leaders and practitioners across various disciplines that intersect with community and economic development! Ideal ERC fellows possess a minimum of five years of professional experience in a manager-level role, an entrepreneurial spirit, ability to learn on the fly and communicate across multiple disciplines, are natural ecosystem builders and connectors, and have a passion to serve others to produce meaningful impact.
Learn more about the inaugural Economic Recovery Corps program, review the frequently asked questions, or apply at www.economicrecoverycorps.org/fellow-info.
Fellow applications close on August 15.

Questions? Visit the ERC website, or email their team at erc@iedconline.org.
"If there is no struggle, there is no progress."
- Frederick Douglass
We are committed to ensuring equity for every entrepreneur, in every community. Please consider a gift to support our work.
Thank you!