This story is adapted from the E3 Durham e-newsletter, a monthly newsletter that features updates on the efforts of our community's incredible entrepreneurs, upcoming events and workshops, and news from around the Durham Community. Stay up-to-date by subscribing to our monthly E3 Durham e-newsletter.
Together, We Have Achieved So Much
Over the past year, the E3 Durham Community Navigator Project has offered a chance to do something new with our entrepreneurial ecosystem. Rather than individual providers and resources operating in isolation, we have created a space where entrepreneurs are better connected to one another, to the organizations who exist to help them thrive, and to the business resources that will allow them to grow.
We have reached some amazing milestones. Here's a snapshot of what we've accomplished this year!
150+ entrepreneurs enrolled in the E3 Durham program

160+ guidance and counseling hours dedicated to helping entrepreneurs prioritize their needs and find the right counselor

300+ hours providing direct 1-1 counseling services

35 Pull-Up @ Provident workshops providing access to education and resources to over 200 attendees

5 LaunchDURHAM cohort programs delivered by Spoke partner Echo

Thank you for being part of the E3 Durham community, for showing up, and for joining the effort to create a more equitable entrepreneurial ecosystem in Durham. We are excited for what's to come in 2023! Until then, take a look back at some of our stories and see what we've accomplished together.
Holiday Market at the December 7th Pull-Up at Provident event.

This month's Pull-Up was a wonderful mix of festive and fun, with the Holiday Market taking center stage. Ten E3 Durham businesses showcased their products and services and with a stellar list of workshops, it was a PU@P to remember!
You don't want to miss out, so join us next month on Wednesday, January 4, 2022 at 5pm for another chance to connect with other Durham-based founders and aspiring small business owners.
Workshop session topics include:
| | |
| --- | --- |
| | Finding Your Side Hustle, Presented by Echo |
Book a 30-minute, one-on-one financial, entrepreneurship counseling session. Sessions are free and available before each event at Provident1898, from 1 - 4 pm.
Sign up for a session on Calendly.

Spoke Spotlight:
Congratulations Echo!
Helius and Audacity Labs have merged to become ECHO! This new organization takes the best of both previous iterations to become a stronger force in the fight for social mobility through entrepreneurship.
Spoke partner Echo will use a multi-generational, long-term approach to help entrepreneurs, both established and prospective, to learn the basics of business, build strategic plans, engage strong community mentors, and find the necessary funding needed to be a thriving, self-sustainable business.

"There is a strong spirit of collaboration in the ecosystem. It's inspiring to see organizations go above and beyond, to live out loud, show in real time, everyday what is meant by community over competition. It's a beautiful thing."
- Magalie Yacinthe
"I have really enjoyed the conversations with aspiring and current business owners at our Pull-Up at Provident events. The excitement from folks chasing their dreams is palpable at those in-person events. Their persistence in the face of barriers is inspiring, as is their openness for discussing just how exhausting it is sometimes. It is a vibrant community that shows up to both learn from the E3 Durham program offerings and to support one another in their journey as a business owner."
- Dr. Stacey Williams
E3 Durham Entrepreneur
of the Month
Dr. Keith Hersey, owner of Hersey Pharmacy. Photo courtesy of @herseypharmacy.

Dr. Keith Hersey is the owner of Hersey Pharmacy, an alternative to the big box chains in the Durham/Chapel Hill area. With over 30 years of experience in the healthcare field, the Hersey's opened their pharmacy in 2019 where they aim to "put the personal touch back in the community pharmacy, where the pharmacist knows you and your family by name, not as a number."

Follow us on Twitter and stay up-to-date on all the amazing things happening in our community!
Business Tax Essentials for the Small Business Owner
In this free online seminar, NC Department of Revenue (NCDOR) will cover basic requirements to help North Carolina businesses understand the laws and obligations necessary to be a tax compliant business. Participants learn about filing and administrative requirements, the basics of NC sales & use tax law, the basics of NC withholding tax law, step by step directions for completing sales tax and withholding returns, and directions for filing and paying online. The webinar takes place Tuesday, January 3rd from 5:00 - 7:00 PM. Register here.

SML BIZ SUMMIT
The Give It to the People Small Biz Summit will be January 6th, 2023 from 1:00 - 6:00 PM. This year's theme is Wealthy & Wise! Get the boost you need to create and accomplish your goals for 2023. Learning new skills for financial stability, brand awareness, customer acquisition, and growth. Learn more and register here.

Black Women Entrepreneurs Grant Program | The Black Women Entrepreneurs Grant Program is a partnership between the Fearless Foundation and Amazon's Black Business Accelerator. This grant program will award 75 Black women-owned consumer product based small businesses grants ranging from $10,000-20,000. In addition, grantees will be enrolled into Amazon's Black Business accelerator in order to receive financial support and strategic business guidance. Applications close 12/27/2022. All applications will be reviewed, and grant winners will be notified the week of January 23, 2023.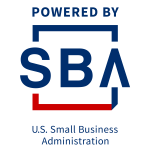 Funded in part through a Grant with the U.S. Small Business Administration. All opinions, conclusions, and/or recommendations expressed herein are those of the author(s) and do not necessarily reflect the views of the SBA.