"The essence of an entrepreneurial ecosystem is its people and the culture of trust and collaboration that allows them to interact successfully. An ecosystem that allows for the fast flow of talent, information, and resources helps entrepreneurs quickly find what they need at each stage of growth. As a result, the whole is greater than the sum of its separate parts."
– Kauffman Foundation's Entrepreneurial Ecosystem Building Playbook Draft 3.0 (2019)
Successful and Inclusive Entrepreneurial Ecosystems .
In my last blog, I talked about the definition and evaluation of two key elements of an entrepreneurial ecosystem – entrepreneurs and entrepreneur support organizations (ESOs). While those two elements represent integral parts of the ecosystem, simply measuring each individual entrepreneur's or organization's success provides an incomplete picture of the viability and inclusivity of the ecosystem at the area-level. The interactions between entrepreneurs and organizations, and the interactions entrepreneurs and ESOs have amongst themselves come together to form the entrepreneurial support ecosystem. Further reflecting on the InBIA1 conference and another recent series of interactions at the ESHIP summit, this blog is focused on measurement of the entrepreneurship ecosystem at the area-level.
ESHIP Goal 5: Practical Metrics and Methods
Identify and develop better metrics and methods for ecosystem building.
A new wave of equitable entrepreneurial ecosystem builders and researchers are paving the way for how we assess the success of systems supporting new and aspiring business owners. While each support organization provides a set of services to increase the success rate for aspiring entrepreneurs, each support organization cannot meet all the various needs of aspiring entrepreneurs alone.  Some organizations provide direct services such as business management training, legal or financial consulting, or assistance with sales and marketing. Other organizations are better suited to convene events where entrepreneurs gather to provide informal peer support to one another and connect to role models in their industry. Collaboration between organizations providing various services creates a cohesive network of resources better suited to support innovation.
Both InBIA conference and ESHIP summit participants talked about a lack of networking and trust between support organizations, again an observation that resonated with some of our own findings in communities we work in. At times, the lack of collaboration was described to escalate to a level of competition that likely results in a reduction in the available and easily accessible resources for entrepreneurs. As illustrated for instance in a presentation by Dr. Elsie Harper-Anderson, in some communities there are clusters of service organizations that work together while strategically excluding other organizations. In others, support organizations provide a more cohesive network to collaboratively meet the needs of entrepreneurs. If there is a perception of distrust between organizations, it is even more challenging to gain the trust of aspiring and current business owners from marginalized populations. When working to engage neighborhoods who have experienced systemic disinvestment and people who already have difficulty trusting "the system," good relationships within the ecosystem are critical to create a welcoming and inclusive culture of innovation.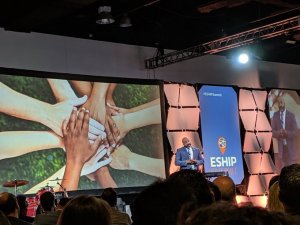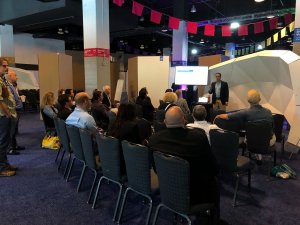 Without intentional and strategic collaboration across support organizations, entrepreneurial ecosystems will not meet their full potential for incubation of new ideas and inclusive innovation. Such a collaborative atmosphere may not come naturally as support organizations compete for resources to support their own business model. Encouragement can come from investors who require collaboration for grant funding and stories about how an ecosystem that strives for interconnectivity and resource sharing can best support the development of an environment to support inclusive innovation.
Evaluators from outside the ecosystem are particularly well suited to evaluate the dynamic relationships between support organizations. Though local providers have a better view of the landscape and politics of support organizations in their community, they are part of the entrepreneurial ecosystem web, making it difficult to evaluate objectively without slipping into preconceived notions and resisting self-serving conclusions. Drawing from the social sciences, research techniques such as social network analysis can provide both a baseline assessment of connectivity and trust between organizations as well as metrics to evaluate change over time in entrepreneurial ecosystems.
At Forward Cities, we are working to build on the success of previous measures to create a comprehensive yet concise evaluation of the inclusive entrepreneurial ecosystem. Here are some examples of the questions we are hoping to answer through these evaluations:
What are the most well-known support organizations in the city?
What organizations are considered to be the most helpful by entrepreneurs?
What organizations are most trusted by entrepreneurs?
Do organizations serve a diverse population of entrepreneurs?
What organizations work together to support entrepreneurs by providing referrals to others?
Do some organizations have a better record of building trust within the ecosystem than others?
Are there gaps in services provided by organizations within the local ecosystem?
What additional services do entrepreneurs need to be successful?
Do ecosystems with stronger connections between support organizations generate more successful entrepreneurs?
conclusion
While metrics illustrating equitable rates of entrepreneurship are the primary outcome of a successful, inclusive entrepreneurial ecosystem, there are many steps along the way that are also worthy of measurement and evaluation. By way of competition over resources to fund their support organizations, strategic collaboration across organizations does not always occur naturally. To remedy this, intentional efforts to measure, document, and financially reward effective and efficient efforts for collaboration across organizations will be necessary. Without a focused approach to encourage collaboration across organizations to support inclusive innovation, we risk investments in support organizations and systems that replicate and perpetuate the unequal distribution of resources.
Resources and Suggested Readings
Entrepreneurial Ecosystem Building Playbook Draft 3.0 (2019)
Harper-Anderson, E. (2018). Intersections of Partnership and Leadership in Entrepreneurial Ecosystems: Comparing Three US Regions. Economic Development Quarterly, 32(2), 119-134.
Varda, D. (2011)."Data-Driven Management Strategies in Public Health Collaboratives", Journal of Public Health Management and Practice, 17(2), 122-132.