"

Virginia's only source of income ceased. There were some programs that were launched by the SBA but unfortunately, Virginia couldn't qualify for the programs. She was stressed and didn't know how she would survive

..

."

Gabe Muñoz
Acknowledgements: As ESHIP Kansas City Local Director, Gabe Muñoz leads the ESHIP Kansas City program and collaborative council of local stakeholders across the community. This initiative engages entrepreneurs and community leaders to grow trust, connectivity, and equity for entrepreneurs in the neighborhoods most disconnected from the traditional entrepreneurial ecosystem. This post features excerpts from an interview with Virginia Mercado of Thunderlight Work Boots facilitated by local ESHIP Council member Edgar Galicia, Executive Director of Central Avenue Betterment Association.

September 30, 2020
ESHIP Communities is a ground-up approach to building a more diverse and inclusive entrepreneurial ecosystem in Kansas City. 
In late spring 2019, ESHIP Communities conducted a  survey of small businesses in Kansas City, Kansas (KCK) in and around Central and Minnesota Avenues. They were designed to help better understand the barriers small business owners encountered, while starting or trying to grow their businesses, to help inform pilot projects aimed at reducing — and hopefully eliminating — the barriers to entrepreneurship in KCK.
Through the survey we learned that 87% of small businesses surveyed did not use or weren't aware of Entrepreneurial Support Organizations (ESOs) in their community. Through in-person conversations with local small businesses, we learned that a lack of awareness, access, trust, cultural competency,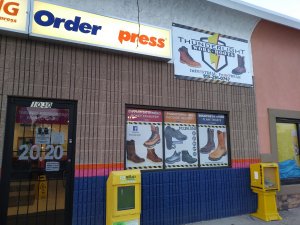 and multilingual services were the leading barriers affecting businesses in KCK. 
In order to help minimize these barriers, our local ESHIP council and team launched a three-tiered approach aimed at increasing awareness and access to multilingual small business support services. The first tier consisted of door-to-door community outreach to develop and strengthen relationships and trust within small businesses in KCK. The second tier was hosting multilingual events in the heart of the community designed to highlight and amplify existing small business resources. The program was promoted in four languages (English, Spanish, Burmese and Nepali) and provided real-time interpreter services during the event.. The third tier offered individual one-on-one small business coaching and technical assistance during office hours at the public library on a weekly basis during the late afternoon and early evening. If small businesses were unable to attend these office hours, we offered the service in-person at their place of business. 
The goal in implementing these steps and actions is to help create and develop a more inclusive and equitable entrepreneurial ecosystem that works for everyone. Virginia Mercado is one example of the effect these steps have had on our local small businesses. 
Virginia Mercado is the founder and President of Thunderlight Work Boots located at 1030 Central Ave in Kansas City, KS. She is an immigrant single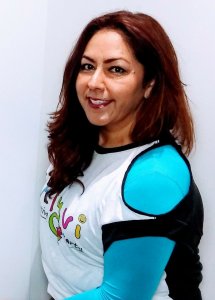 mother and the sole breadwinner of her household of three. Two years ago, Virginia was laid off which led her to explore starting a business. She had several ideas and researched each of their potential. After studying the market she decided to open a boot store with an emphasis on boots for workers in the restaurant, construction, and manufacturing industries. 
With minimal capital she decided to jump into business. When she began she wrote out a list of goals she hoped to achieve in her first year. Unfortunately, things took off a little slower than she had hoped. Her first year of sales barely eclipsed $15,000. Though sales were not where she wanted them to be she knew she had a great concept and was filling a need in the community. 
Virginia's second year of business was an improvement but she still wasn't reaching the goals she set for herself and without a significant improvement in sales she felt those goals were out of reach. She wanted to improve her business but wasn't sure how or where she could receive assistance. Then in mid-January she received an email from Edgar Galicia, Executive Director of the Central Avenue Betterment Association, promoting a business resource fair in Spanish at the community center one block from her business. This was the first time she had heard of any free resources available in Spanish for businesses like her. She ecstatically RSVP'd YES!
At the event, she encountered a room full of small business owners and over fifteen different resources for small businesses. She participated in a multilingual seminar on the State of Kansas' Individual Development Account program for small businesses. The State of Kansas matched savings IDA Program operates on a 2:1 match ratio in Kansas. Every dollar an IDA Program participant saves will be matched with $2 in grant money. The savings goal for all participants is $3,000, matched with $6,000 in FREE grant money, for a total of $9,000. The Kansas IDA program gives recipients 48 months to reach their goal of $3,000, in hopes of satisfying the minimum six months of savings time. The Kansas IDA program can be used for current or new businesses. Applicants do not need a SSN.
In addition to the IDA, Virginia was able to learn about a grant program from the Unified Government of Wyandotte County that was designed to support small businesses in the urban core with renovation costs (sheetrock, flooring, painting, etc.), façade and minor roof repairs (painting, sealing, etc.), inventory costs (other than office supplies, etc.), equipment cost (miscellaneous equipment, etc.) and marketing (webpage, signage, etc.) to spur a more equitable entrepreneurial ecosystem in KCK. 
Virginia was excited to hear about all of the amazing programs but was hesitant to apply for any of them partially because her limited English proficiency made it difficult to understand and complete the application forms and because it felt like they were too good to be true and there had to be some type of catch. But not wanting to lose out on this opportunity, Virginia reached out to Forward Cities to schedule a one-on-one office hours session. 
During the office hour session Virginia and I met to get to know each other better. I speak limited Spanish but the two of us were able to communicate sufficiently. I then explained each of the programs in more detail and helped her feel more comfortable with applying for the IDA matching grant. I returned several days later to help Virginia complete the grant application and to assist in collecting the necessary paperwork which was required as part of the application process and together, we submitted her application. After several weeks, and a call from me to the program manager, she was accepted into the IDA program! Virginia is currently working on her business savings goal.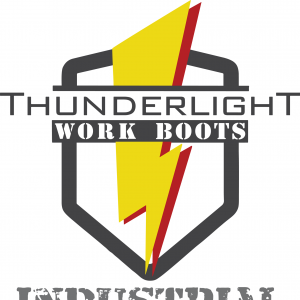 During one of our office hour sessions, Virginia had shared a list of goals she had written two years earlier that she had hoped to achieve with her business. She explained that because her sales weren't very high she didn't have funds to invest into her business to grow. Some of her goals included developing an eCommerce website, getting her vehicle wrapped to advertise her business, and expanding inventory to include American-made work boots. I let Virginia know I  would continue to work with her to help her achieve her goals. 
I also shared with her that the Unified Government (UG) had a small business grant that could be used to match her IDA savings, essentially doubling what she had at the time, but it was a reimbursable grant so she would have to have the money upfront. Because it would take her time to save enough money, we decided it would be best for her to apply for the UG grant in the spring of 2021. 
In the meantime, Virginia explained that she had experience with graphic design and had been experimenting with Wix but wasn't sure if it was a good platform and how exactly to get her website online. The terminology and options were overwhelming, confusing and she wasn't sure if she was making the right choices. I worked with her to help her understand hosting, online payment systems, SEO, and how to navigate the Wix platform. Within two weeks, Virginia was able to get her first website up and running, knocking one of her goals off of her list. 
Then mid-March came and everything stopped due to COVID-19! Virginia's only source of income ceased. There were some programs that were launched by the SBA but unfortunately, Virginia couldn't qualify for the programs. She was stressed and didn't know how she would survive. I kept her aware of different programs as they came out but she didn't qualify for any of them. Then one evening I got word that the UG grant was being discussed during the county commissioners' meeting. The Commissioners voted to remove the reimbursement component, deadlines and make the grant more accessible to small businesses. 
I immediately contacted Virginia, advised her of the new changes and explained that because a lot of businesses are hurting and would be applying she needed to act quickly once the application became available. We worked together for several days in a row to help her write a business plan, develop a plan for how the funds would be used, and complete the application. Several weeks later, she was advised that she had been selected as one of the grant awardees! The grant allowed her to implement a more robust eCommerce platform, launch a digital marketing campaign, expand her inventory to include construction work boots, and get her vehicle wrapped to promote her business. 
Virginia has now been able to physically open her business and is working to make up for lost sales. She has begun getting connected to other resources and training that has expanded her skill sets in online marketing. She is sharing resources with neighboring businesses and has become part of the ESHIP Communities initiative in KC. Thanks to the support she has received she has been able to pivot and adapt to her new environment and is now on track to have a record year.  
Virginia's story is one of many that have been able to flourish with the support of the ESHIP Communities program. When we create environments where small businesses feel comfortable to seek guidance, make information available in other languages and provide individualized support, entrepreneurs win and and more importantly our community wins. We will continue to work towards  growing and creating a more inclusive and equitable entrepreneurial ecosystem — and we will...one entrepreneur at a time.