"the feeling of 'being right where you're supposed to be' is palpable at Pull-Up at Provident events."
The moment you step off the elevator into the Concourse level at the Tower at Mutual Plaza you know something is different. It may be the history of the building which was built in the 1960s for —at the time— the largest Black-owned business in the world, NC Mutual Life Insurance Company. It may be the stunningly professional decor of the Provident1898 co-working space, with its nods to the historic nature of the building. Or it may be the friendly teams of peers from Forward Cities and Provident1898 greeting people at the door. Whatever the reason, the feeling of "being right where you're supposed to be" is palpable at PU@P, or Pull-Up at Provident events. 
These monthly events bring together some of the best business resources in Durham with the sole purpose of helping you grow your business. The resources are plenty and purposeful. This is because Forward Cities — together with strategic support from the City of Durham and Durham County — partnered with trusted local organizations for this initiative; a program designed to help entrepreneurs in the region to equitably start, grow, and scale businesses.
Pull-Up at Provident events are aimed at supporting founders and entrepreneurs in Durham to equitably start, grow, and scale their business.
The E3 Durham team believes that entrepreneurs can be better connected to technical assistance, capital, and business recovery/stimulus resources through a program that focuses on broader outreach, trusted community connectors, access to supportive spaces, and 21st-century technology.
The "Hub and spoke" model of the program leverages partnerships with deeply trusted community-based organizations to help small businesses connect with resources and opportunities. Spokes include the following Durham-based organizations: Durham Tech Small Business Center, Echo, Infinity Bridges, Inc., Knox St. Studios, North Carolina Central University School of Business, and Provident1898. Each of these organizations is a regular participant at the Pull-Up at Provident events, leading workshops, offering free business counseling, and connecting with our community of entrepreneurs. Pull-Up at Provident events are free and open to everyone.
So the next time you hear someone say "There are no free resources for Black businesses in Durham," tell them to pull up at Provident1898 on the first Wednesday of each month to find out.
Learn more and register at e3durham.org/events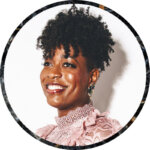 ABOUT THE AUTHOR
Tivi Jones
Hey Awesome Girl
Tivi Jones teaches, consults, and creates to help you make work (and the world) more awesome! Founder of Hey Awesome Girl, a creative agency with a social mission to empower women to become entrepreneurial consultants, she has appeared on PBS, RollingStone, Time, People en Español, and more.