We are delighted to share reflections from ESHIP Long Beach (ESHIP LB) Local Organizer and Founder of Fuller Management Corporation, Kena Fuller! Kena has been leading the ESHIP LB work since the spring of 2021 after serving as a member of the ESHIP LB Council. She brings to her work a vibrant passion for helping small business owners while creating greater equity in her community of Long Beach, California. Kena embodies a keen balance of humor, grace, critical analysis, truth-telling, and advocacy in her leadership style and ecosystem building efforts. Read on for Kena's full interview in this installment of our Deep Dive with Entrepreneurial Ecosystem Builders Across ESHIP Communities series. Be sure to come back and check out Paulo Gregory of ESHIP Baltimore and Erin Origoza of ESHIP Rio Grande in April and May!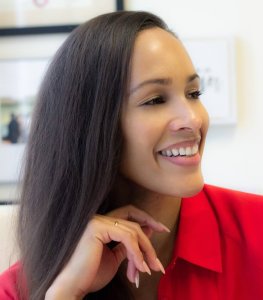 Ecosystem Building
Q: What is your personal definition of an ecosystem builder?
A: An ecosystem builder is a person who possesses a love for community and entrepreneurship. An ecosystem builder is someone who is willing to work within groups and one-on-one settings, creating opportunity and pathways for those who are a part of the shared entrepreneurial community.
Q: How would you describe a truly healthy and equitable entrepreneurial ecosystem?
A: For me, when the word "healthy" is used, my mind goes to mental well-being. The health of a business often aligns with the financial position; however, no business can exist without human power. It is the people within a business or behind a brand that make it what it is and/or has the potential to be. By this, mainly assuring that all are well, the equitable aspect makes it possible for all to have access to resources and opportunity, especially those who continue to pad traditional statistics. Black and Brown communities, and especially women of color, are often overlooked and, because of this social norm, it is assumed that they have a strength that gets them through every single storm. Equity gives the communities the chance to lift others up and to make a way for those we know are not beginning from the same starting line as others. Equitable entrepreneur ecosystems mean all are working in concert, consistently calling on others to do good work that supports the communities wholly and holistically.
Q: Tell us about a time you witnessed something deeply moving as an ecosystem builder. What happened? How did that impact you?
A: During the early stages of 2020, I witnessed a prominent public figure in Long Beach take a stand in solidarity with the Black and Asian communities of our city. This person was scrutinized for the stance, but chose to do the work regardless of naysayers. This blew me away, as I could see what was at stake — role, perception, reputation, etc. That did not deter this person from doing what was good and right and I will always appreciate the acts of kindness, love, and support this person provided, even though they knew the potential of "risks." This impacted my sense of appreciation for my community, as well for this person. A quote from Dr. Martin Luther King truly resonates in the sentiment of this memory, "It is always the right time to do what is right." And I could not agree more!
Q: Tell us about a time you witnessed people helping each other in your ecosystem. How did that inspire or motivate you?
A: The pandemic brought out the true colors of not only our city but our ecosystem. Neighbors stood in the streets shielding store fronts, arms locked, ready to support their friends and local shop owners during the civil unrest of 2020. The community poured from their homes and safe spaces to be there during a pivotal time of need. This is Long Beach and it is our ecosystem.We are peers, neighbors, business owners, friends, but we are nothing without one another and that rang true during this difficult time.
Q: Tell us about a moment in your life that helped make you a better ecosystem builder.
A:  A moment in life that has helped make me a better ecosystem builder is having the opportunity to support my community, in collaboration with Forward Cities and the City of Long Beach and our immediate Fuller Management team, working in the ESHIP LB Local Organizer capacity. This experience has been absolutely wonderful as well as challenging. As we work to create tools and pave pathways for others, the existing road has presented some bumps and potholes. That said, I love a good challenge and I find myself fueled by the knowing that better is coming. Our focus is and has always been on the emphasis of the importance of equity in community and entrepreneurship opportunity, for those who are historically overlooked and disenfranchised. With the wellbeing of others at the heart of our work, it makes the job all the more motivating.
Long Beach Crosswalk
Q: What is the Long Beach Crosswalk?
A: Now live at LBCrosswalk.com, the Long Beach Crosswalk is an online platform designed to support entrepreneurs during every stage of entrepreneurship. Early in the pandemic, we realized that many entrepreneurs had no plan B or contingency. This was mainly due to the inability to stop the usual flow of operation and regroup, reassess, or plan.  In many ways, the slowed pace granted perspective our community would not have otherwise had. With the support of a local ESHIP Long Beach Council, we began the discussion of the "Crosswalk" on April 1, 2020 and the conversation has endured, along with extensive research, development, and planning for two years now. We created the Crosswalk as a means to give all access to what we learned was needed. Now, anyone considering entrepreneurship, in an early stage of business ownership, or any business in operation has access to a plethora of online, accessible resources, decreasing many of the barriers that previously made access to resources difficult. The Crosswalk was made by entrepreneurs, for entrepreneurs and that in itself is one of the main reasons why I love this new free online tool!
Q: What will need to happen in order for you to know the LB Crosswalk has been successful? What are your hopes, visions and dreams for this project?
A: When someone I know or meet tells me about this incredible tool, I will know that the good word about the Crosswalk is spreading far and wide. We are a tight knit community here in Long Beach. Our degrees of separation are two and three people. We are intricately connected in so many ways. Once we begin to share the Crosswalk with peers, loved ones, and the community, that is how we will be able to determine the effect and impact of our work.
Q: What do you and your ecosystem need to support the success and sustainability of this pilot project? What do you need right now to take this project to the next level?
A: Funding and longevity are at the forefront of our focus. The site/tool is designed in a way that we are able to measure success in several ways. One way is measurement of use, another is the storytelling and sharing component that seems to happen organically in Long Beach. Use of the site and shared details with friends and neighbors— this is some of what is needed to take the Crosswalk to the next level of sustainability and scalability.
Entrepreneurship
Q: What is your business?
A: The name of my business is Fuller Management Corporation (FMC). Established in 2010, FMC was designed to provide access to business development and coaching support that is often lacking in the world of entrepreneurship.
Q: What is your deeper 'why' behind your business or entrepreneurial journey?
A: Like so many entrepreneurs, I left the corporate world feeling overworked and limited to the framework of many organizational structures. I knew I had found my passion when I leaned into business development many, many years ago. If I had to state one aspect of my work that I enjoy the most or my deeper why, it is the people I work with. I am beyond blessed in that I get to do what I love, while supporting others who are equally passionate about their interests and craft. I do what I do because it is exactly what I did not have in the beginning of my business journey, which I wish I had. As is my personality, rather than sit and wait, worrying about what isn't, I chose to build a business that specializes in customized support and technical assistance for others — meaning what can sometimes feel insurmountable suddenly becomes possible with the support of a team behind you! Something I always tell those we work with is "You are not meant to go it alone, we are here to help in any way we can. Your goals are our goals and if there is a win to have, let's go for it!."
Q: How does being an entrepreneur and ecosystem builder impact each other?
A: I believe this is something that is open to interpretation. Some may feel the two do not align, but I would have to disagree.  Being an entrepreneur makes a person an asset within the community.  By having the experience of an entrepreneur, an individual acts as a sort of expert, sharing experiences and ideas within the community. The impact is felt when systems or programs are created for entrepreneurs, while carefully applying the entrepreneur lens, assuming that all details, needs, and interests are properly tended to in a comprehensive way.
Q: How can the readers best support your business or entrepreneurial journey right now?
A: Support of the work we are doing includes sharing with others the details of our company offerings as well as using and sharing details about The Long Beach Crosswalk. Everything we do is always from the outside. This is something we say within Fuller Management. Our work is for the entrepreneur community, helping to support us means that others are being helped in community and that is definitely why we do what we do — it is my currency.
Q: What is something unique about you or something you've experienced that few other people may have?
A: Being an entrepreneur is an uphill journey. Just when you think you've hit your stride, new opportunity and challenge arises and that is okay. In fact, I believe the one guarantee we have as entrepreneurs is that things will always be changing and evolving. When it comes to uniqueness, I revel in the opportunity to overcome obstacles; starting Fuller Management was one of them. Despite not receiving any funding to start my business, I did not let that deter me from pursuing my passions of entrepreneurship in supporting others. So, as goes the age old entrepreneur story, I took my last corporate check and put every penny into my business, and did so for nearly two years before earning my first $1 of profit. Fast forward to 12 years later, and decades more to come, I wouldn't change it for the world!