"

Communication is essential for transforming an idea into action. We all grow stronger when we're well-nourished.

"

David Sundberg, ESHIP Rio Grande Council Member
Table Top Food Hub – Tucumcari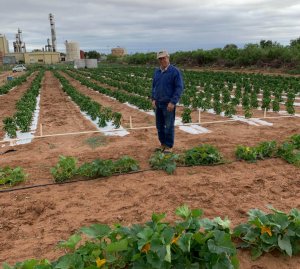 A food hub in Tucumcari — a small city of about 5,300 in eastern New Mexico with only one grocery store — is still a dream. David White has been working on this dream for years. David's story, one he shares generously and honestly, is different from others in this article. In 2014, David was released on parole. He was incarcerated for eight-and-a-half years after struggling with drugs and alcohol throughout his adult life. While in the Department of Corrections, David was placed in work camps where he learned and eventually taught other inmates about agriculture in the prison-sponsored horticulture and aquaculture programs. He had big plans to start a ministry using food production as a vehicle for growth and sustainability when he landed in Tucumcari.  
Q: Why agriculture and how did you get started?
A: I had this vision for a place where people could learn to be whole and healthy in a supportive, Christian environment before I went to prison. While there, I found focus in growing food. I went to City Council and Economic Development Corporation meetings to present the idea of getting more food growing around Tucumcari, both in greenhouses and in fields. I met Bob Hockaday, who was working on converting an old ethanol plant into an alternative fuel production facility. He knew that greenhouses use CO2, a byproduct of the process, and we recognized that and other common benefits from our plans. After a lot of conversations, I decided it was time to stop talking and start doing. I started throwing hundred-dollar bills at a greenhouse on the plant property and began growing food. I was eventually able to get a microloan from FSA (Farm Service Agency) and start growing in the adjacent field as well.
Q: How did the idea of a food hub originate?
A:  I knew that I'd need a mechanism to move that much lettuce, fish, and whatever I and others produced. I met a few other like-minded individuals and we started working on the idea of Table Top Food Co-Op. It took over two years to create bylaws and get officially recognized. We started a beginning farmer/rancher mentor program, of which I was the first graduate. Meanwhile, on a rainy day when I couldn't get into the field, I stopped by La Casa Verde Floral and Nursery to talk to the owner about participating in the co-op. He said he was planning on closing the business and I realized immediately it would be a great retail outlet for fresh food, so I ended up getting another FSA loan and buying it. 
Q:  Where does the food hub stand today? Where do you see it a year from now?
A:  We have our third cohort in the Table Top Food Co-op beginning farmer/rancher program. I got on the N.M. Grown approved vendor list and am selling fresh produce out of La Casa Verde to the public, three schools, two restaurants and nearby food co-ops — plus, I just got approved to accept SNAP and Double-Up Food Bucks. There are four or five other farmers working on farm safety plans so they can start selling to markets as well. In a year, I'd like to have at least one refrigerated truck on the road making deliveries, have an e-store, a CSA, and access to retail outlets to give producers more markets for their products.
Q: If you could wish for one thing to help grow this dream, what would it be?
A: A commercial kitchen—fresh food is highly perishable. We need someplace to process and preserve this food so we can make year-round sales.
Q:  What helped you most to get to where you are?
A: As much as I hate giving the DOC credit for anything, without the time I spent in prison, I never would have gotten my education, never would have moved forward with my dreams and visions. I slowed down and cultivated the soil of my heart and mind. I also had the right connections in the community at the right times—coaching, cheerleading, and encouraging me.
Q: What has held you back?
A: The DOC. I'm probably a couple years behind because of the work and accountability requirements they have. The USDA—they talk a big game about helping the underprivileged, then hand out stacks of paperwork that are discouraging to get through.