Join US
Techstars Startup Weekend | Social Innovation Durham
October 14 at 6:30 pm to October 16 at 7:00 pm
Provident1898: 411 W Chapel Hill Street, Durham NC 27701
Join us the weekend of October 14-16 for the Techstars Startup Weekend – Social Innovation Durham, to learn how to think, work, and a build like a startup in 54 action-packed hours.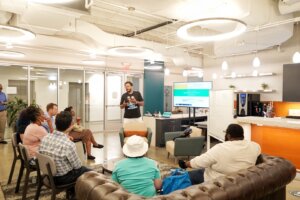 Hosted by our incredible E3 Durham partners Knox St. Studios, it will be a marathon event designed to catalyze energy around entrepreneurship, innovation, diversity, and opportunity in the Bull City through mentorship, investment, and support. This is the first Techstars Startup weekend in North Carolina in over two years, and with the brilliant lineup of speakers, organizers, and participants, it will not disappoint.
Join entrepreneurs, leaders, investors, and sponsors (including Forward Cities!) at Provident1898 for a jam packed agenda aimed at introducing you to new and existing opportunities to take your business to the next level and connect with other members of the startup community.
The weekend is intentionally designed around a few topics:
Community development and expansion
New tech companies expanding in our backyard
Community health and wealth
Community design (physical space)
The pitch competition promises to be an energetic showcase of local talent and innovation. Participants will have the opportunity to join a dynamic team to journey through the weekend with. Workshops, mentoring sessions, presentations, pitches, meals, and networking opportunities will be featured throughout the weekend.
Whether you're an industry expert, entrepreneur, startup enthusiast, student, educator, or working in the fields of business, tech, healthcare, social innovation, or the creative economy – or some other area of interest or expertise! – there is an opportunity to engage for a meaningful and fun weekend.